2024 Watch: Nikki Haley says her momentum in GOP presidential race comes down to this
Nikki Haley says her speaking the 'hard truths' is fueling her apparent upward trajectory in the race for the 2024 Republican presidential nomination
MANCHESTER, N.H. – Nikki Haley says her apparent upward trajectory in the race for the 2024 Republican presidential nomination comes down to her telling the "hard truths."
"I think we've spoken a lot of hard truths and I think that Granite Staters appreciate that," Haley emphasized in a Fox News Digital interview this week in Manchester, New Hampshire, the largest city in the state that holds the first primary and second overall contest in the GOP nominating calendar.
The former two-term South Carolina governor who later served as ambassador to the United Nations in then-President Donald Trump's administration has seen some momentum since her well-regarded performance in the first Republican presidential primary debate on Aug. 23.
The crowds Haley attracts on the campaign trail in the early primary states of Iowa, New Hampshire, and South Carolina appear to be growing. And Haley's seen her support edge up in some of the latest Republican nomination polls, even though she and the rest of the field remain well behind Trump. On Wednesday, President Biden's 2024 re-election campaign targeted Haley for the first time.
FIRST ON FOX: BIDEN RE-ELECTION TEAM TAKES AIM AT NIKKI HALEY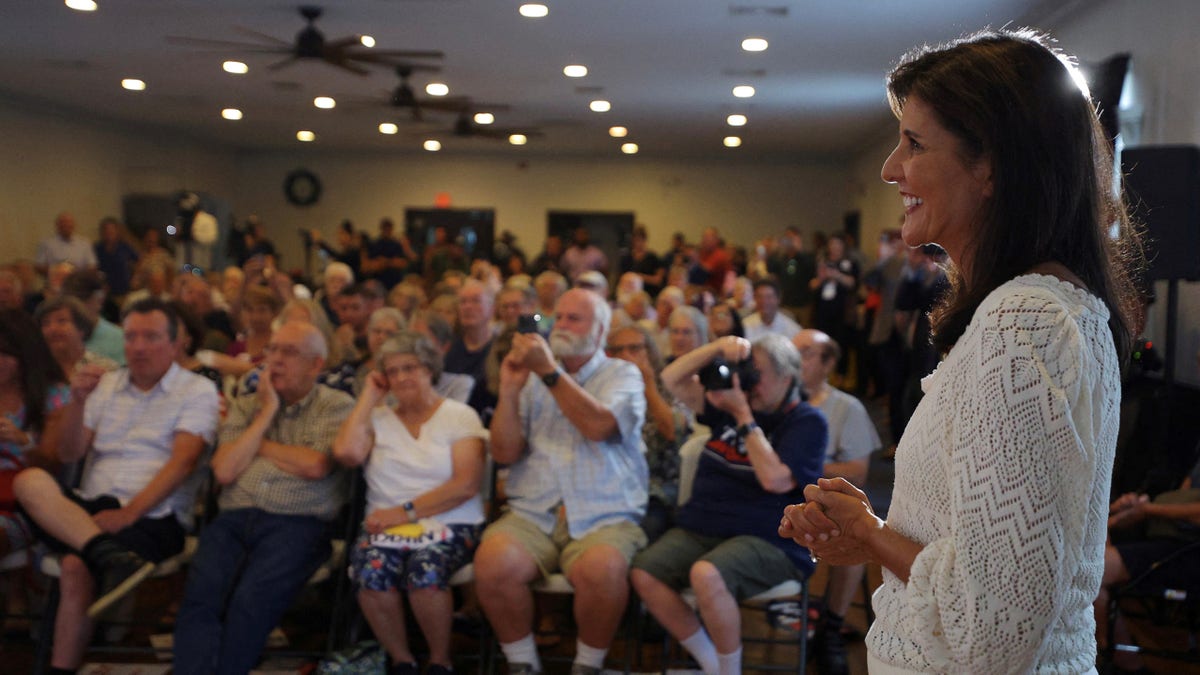 Asked what she's doing right, Haley told Fox News that she's treating voters like adults.
"Whether it's hard truths about the fact that Republicans and Democrats have spent like drunken sailors. Whether its hard truths on the fact that national security matters and you can't just say crazy things and not go and protect Americans in the process. Whether it's the facts that we're talking about parents' rights. Those things matter to Americans so we're going to keep speaking hard truths and we're also going to talk about what the solutions are to fix those things," she highlighted.
The "hard truths" is a line Haley likes to showcase.
"I'm going to tell you my hard truth, because I don't think Americans get the hard truth on this," Haley said two hours later at a town hall at a Veterans of Foreign Wars post in Merrimack, New Hampshire.
Haley, the only woman among the major candidates running for the Republican nomination, was the first contender on the stage at last month's debate to come out swinging, targeting Florida Gov. Ron DeSantis, Sen. Tim Scott of South Carolina and former Vice President Mike Pence early in the debate for supporting legislation that raised the national debt.
HALEY TEAMS UP WITH MOMS FOR LIBERTY AS THE GROUP TAKES CENTER STAGE IN THE GOP PRESIDENTIAL NOMINATION RACE
Haley was the first to target Trump over his perceived electability liability, arguing the former president was the "most disliked" politician in the country. She also heavily criticized another rival, multimillionaire biotech entrepreneur and first-time candidate Vivek Ramaswamy, over foreign policy.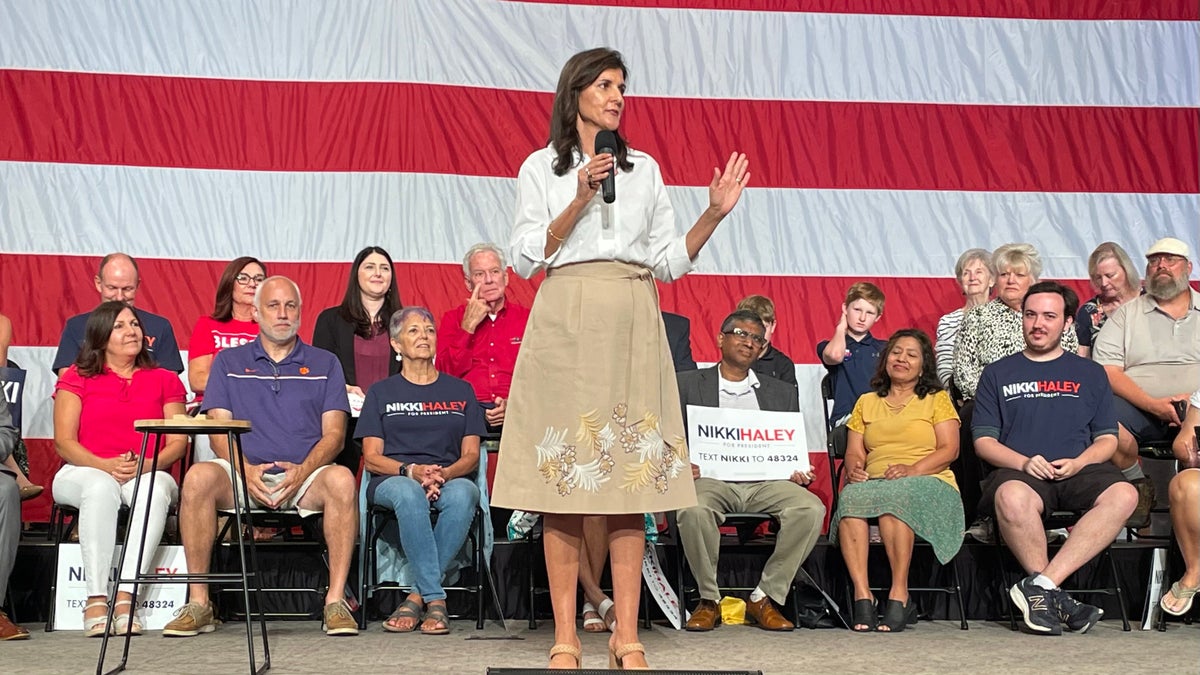 Asked what lessons she learned from the first showdown that she'll use in the second debate, a Fox Business hosted event on Sept. 27 at the Ronald Reagan Presidential Library in Simi Valley, California, Haley said "I'll continue to be myself. I'll continue to say what I think. And the best debate prep, honestly, are these town halls that we do every day. They ask us the tough questions. They sit there and want us to spend the time and it's great debate prep for us because it prepares us for the debate stage."
Haley's been regularly holding town halls with voters in Iowa, New Hampshire, and South Carolina since launching her presidential campaign in early February. She was the first major GOP candidate to declare her candidacy, other than Trump, who launched his third straight White House campaign last November.
FIRST ON FOX: HALEY TOUTS POST DEBATE FUNDRAISING HAUL
Pointing to her busy retail campaigning schedule, Haley reiterated that "we're going to keep our head down, we're going to keep working and make sure we earn every single person's support."
The president's re-election campaign appears to be noticing Haley's movement.
As Fox News first reported on Wednesday, the Biden campaign heavily criticized Haley over her education platform, while casting her as a "MAGA Republican" with "no real plan" to improve the nation's public schools system.
Haley took the criticism as a badge of honor.
In an interview on Fox News' "Jesse Waters Primetime" soon after the Biden campaign jab, she argued that "the one person they're worried about in the Republican primary is Nikki Haley."
And Haley bragged that if she's the GOP presidential nominee, "I would stomp all over Joe Biden.
Hours later, a national poll from CNN indicated that Haley was the only one of the major GOP presidential contenders to top Biden outside the margin of error in hypothetical 2024 general election matchups.
Both the campaign and Haley-aligned super PAC were quick to tout the poll in emails to supporters.