US spends $150 million to help small forest owners sell carbon credits
The federal grant program announced in GA would help landowners of 2,500 acres or less connect with companies willing to pay for environmental credits
The Biden administration said Tuesday it will spend $150 million to help owners of small parcels of forestland partner with companies willing to pay them for carbon offsets and other environmental credits.
Agriculture Secretary Tom Vilsack announced the grant program at a conference of Black landowners in coastal Georgia, saying programs that allow private companies to offset their own emissions by paying to protect trees have disproportionately benefited owners of large acreage.
"In order for those small, privately held forest owners to be able to do what they need and want to do requires a bit of technical help," Vilsack told about 150 conference attendees in a church ballroom in Brunswick. "And sometimes that technical help is not easy to find. And it's certainly not easy to afford."
COMPANY PAYS OUT $5M TO MA, FEDERAL AGENCIES FOR POLLUTION FROM PLANT CLOSED SINCE 1952
The grant money comes from the sweeping climate law passed by Congress just over a year ago and targets underserved landowners, including military veterans and new farmers, as well as families owning 2,500 acres or less.
The goal is to protect more tracts of U.S. forest to help fight climate change. The past decade has seen a rapidly expanding market in which companies pay landowners to grow or conserve trees, which absorb carbon from the atmosphere, to counterbalance their own carbon emissions.
For owners of smaller family tracts, selling carbon offsets or other credits would give them an alternative income to harvesting their timber or selling their property to a developer.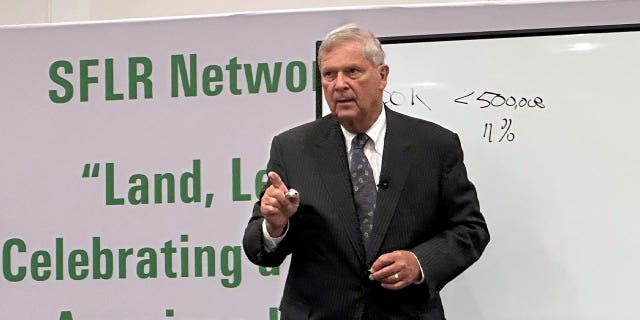 Companies are pouring billions of dollars into environmental credits, but small landowners face daunting barriers to eligibility, said Rita Hite, president and CEO of the American Forest Foundation. To participate, owners need to take an inventory of their forested property, have a land management plan and run models to calculate the land's carbon value.
"Previously, if you didn't have 5,000 acres or more, you weren't participating in these markets," Hite said. "Not only are there technical hurdles, but also financing hurdles."
The American Forest Foundation and the Nature Conservancy launched a joint program four years ago that covers many of the costs for family land owners to sell carbon offsets for their land.
BERNIE SANDERS LEADS LAWMAKERS DEMANDING DOJ PROSECUTE FOSSILE FUEL COMPANIES FOR CLIMATE CHANGE
Those groups and other nonprofits will be eligible to apply for grants of up to $25 million to provide direct help to landowners under the Biden administration's program. So will state forestry agencies, university agricultural extension services and others The money could pay professionals to help owners develop land management plans or to connect them with with project managers who serve as middlemen between owners and companies seeking environmental credits.
The grants were welcomed by John Littles, a leader of the Sustainable Forestry and African American Land Retention Network hosting the Georgia conference. The group represents 1,600 Black landowners across eight Southern states — Alabama, Arkansas, Georgia, Mississippi, North Carolina, South Carolina, Texas and Virginia.
"Most of the time, we're left out — more specifically people of color," Littles said. "We're not afforded the opportunity to help design the programs, so the programs are mainly now designed for large landholdings and large acreage."
Littles said his network plans to apply for a grant under the new program. But he's not sure how much demand there will be from landowners. He said that will largely depend on whether owners of smaller acreages can get enough money from conservation credits.
"I think it's still early to tell," Littles said. "But it has to be a benefit for the landowners."
Hite of the American Forest Foundation said landowners with small acreage shouldn't expect big profits from selling environmental credits. She said owners enrolled in the group's Family Forest Carbon Program earn on average about $10 per acre in a year.
"Is this going to matter for a 30-acre landowner? It's not going to make them rich," Hite said. "But it will probably pay the taxes."