Virgil Earp: The Peacekeeping Lawman Of The 'Wickedest Little City In The West'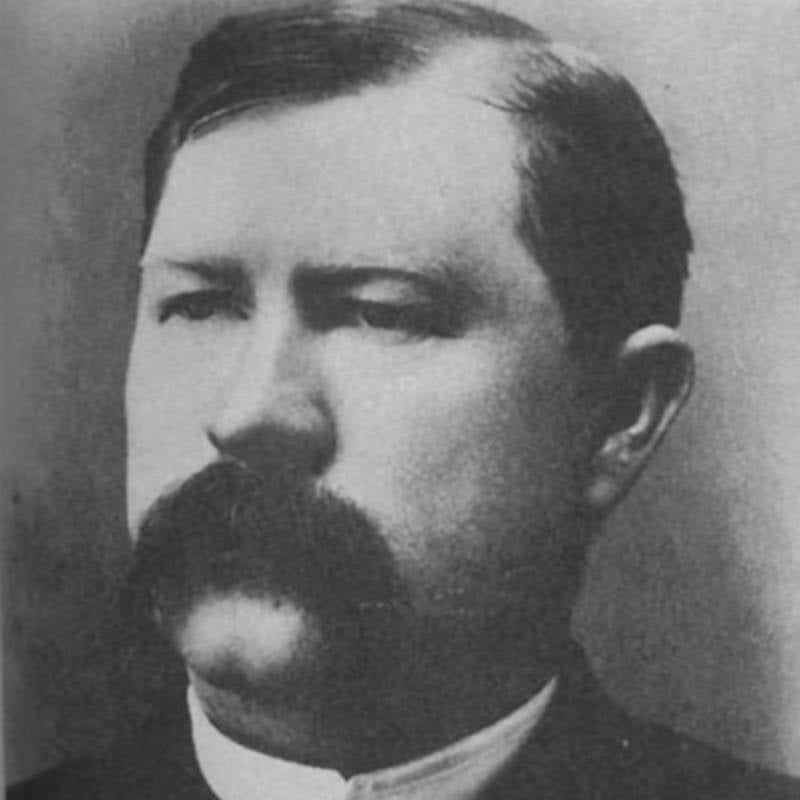 Virgil Earp in middle age.
While Virgil Earp was not as famous as his younger brother, Wyatt, he was an instrumental figure in one of the most legendary events in America's Old West: the shootout at the O.K. Corral. Virgil's life was equally as adventurous as his brother's, though his brother was certainly better at talking himself up after a fight. As such, the quiet bravery of Virgil Earp has gone largely unspoken about.
Life Before Becoming a Lawman
Virgil Earp was born on July 18, 1843, in Hartford, Ky. He was one of nine children and the second-oldest son of Nicholas Earp and Virginia Ann Cooksey.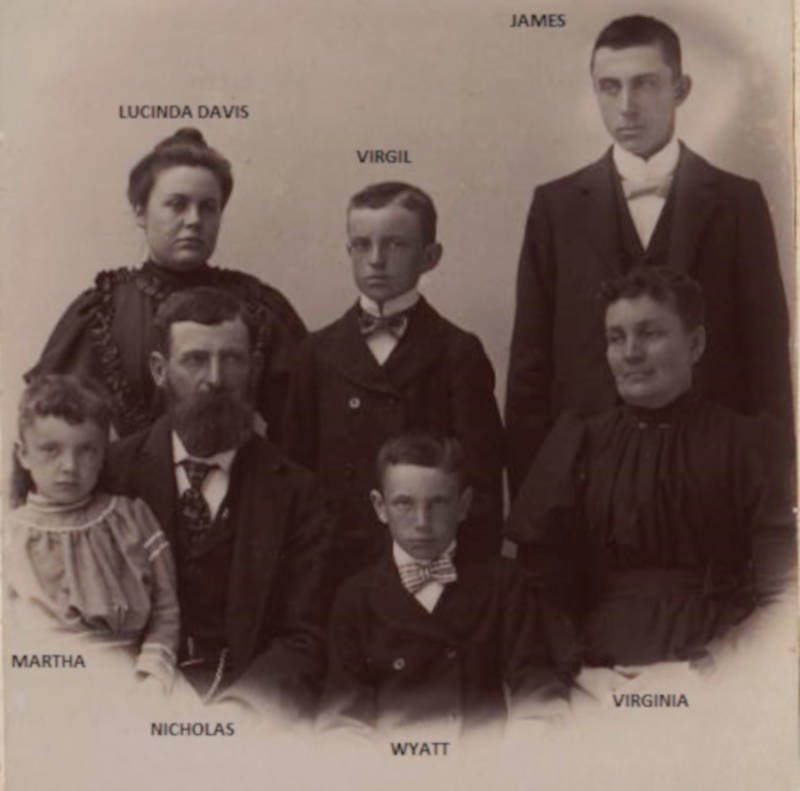 The Earp family when Virgil and Wyatt were young boys.
Fearing for their lives ahead of the Civil War, the Earps moved to Monmouth, Ill., and it was there that Virgil met Ellen Rysdam. The pair married in secret in September of 1861 because 18-year-old Virgil's parents disapproved of her.
Virgil's rebellious streak didn't end here, though.
When news of the Civil War came to Illinois, Earp enlisted in the Union Army. He left for war just two weeks after his daughter, Nellie, was born on Jan. 7, 1862. By late July, Earp joined the 83rd Illinois Infantry.
Somehow Earp's wife received word in 1863 that her husband was killed in action. She remarried and moved to Oregon Territory to start her life over. Unbeknownst to Earp, who remained a soldier in the army until the war's end in 1865, He returned to Illinois in 1866 only to find his entire family had moved without him.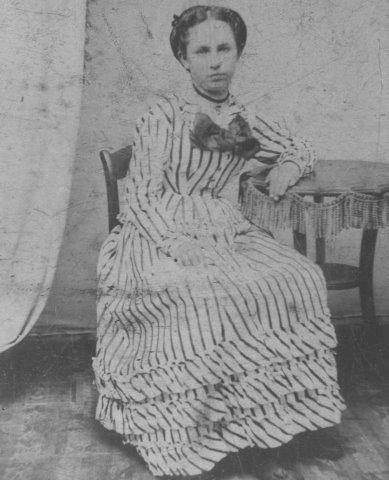 Allie Sullivan, Virgil Earp's third and final wife, at age 16.
Undeterred, Virgil traveled west and experimented with a variety of odd jobs, like driving stages California, building railroads in Wyoming, and running a grocery in Missouri where Wyatt was a constable. Virgil would try his hand at love a second time only to marry a young woman who altogether disappeared.
But the third time proved to be the charm, and Earp's third marriage to waitress Allie Sullivan of Iowa would last the rest of his life.
Eventually, Virgil, Allie, and Wyatt headed off together to settle around Prescott, Ariz. where the brothers' hard-nosed reputation was well known.
Becoming A U.S. Marshal
By 1877, Virgil seemed to have settled on a quiet life with wife, Annie. He was running a sawmill outside Prescott when stumbled into outlaw infamy.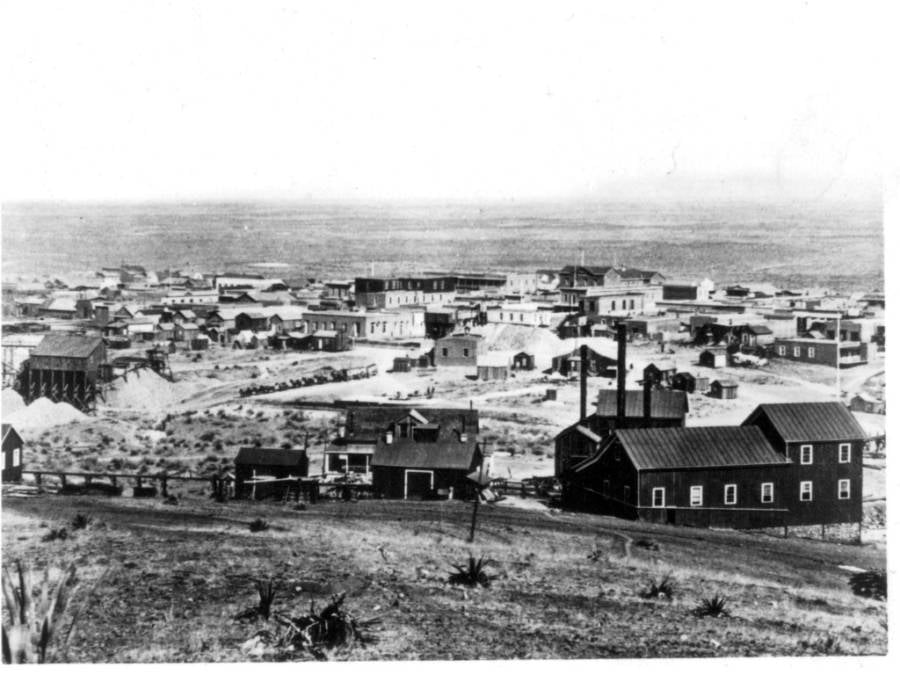 A view of Tombstone, Ariz., circa in 1881.
While downtown in Prescott in October of that same year, Virgil was roped into a gunfight. He and U.S. Marshal William W. Standefer and Yavapai County Sheriff Ed Bowers had been talking downtown when two trouble-making sharpshooters fled town in an uproar. The local authorities needed all the help they could get to bring them to justice and so Yavapai County Sheriff Ed Bowers deputized Virgil Earp on the spot.
The authorities took off after the men but it was Virgil who stumbled across the criminals first. A gunfight between Virgil, the authorities, and the criminals broke out and when the smoke dispersed, Virgil stood over the dead and injured bodies of the robbers.
The legend of a sharpshooting lawman was born. Earp was awarded as the town's official night watchman and he won one of Prescott's two constable slots the following year.
Virgil Earp Heads To Tombstone
While working as a constable in Prescott, Earp became close to U.S. Marshal Dake Crawley, and when Virgil headed off for Tombstone, Ariz. in 1879, Crawley appointed him deputy U.S. marshal for the Tombstone area.
Tombstone became a boomtown when prospectors found silver. But as hard working miners moved in, so did criminals. A hard-nosed lawman was necessary to keep the peace, and so Virgil, a federally-appointed lawman, rode into Tombstone with his brothers Wyatt and James and their wives in December 1879.
They were also accompanied by the character, Doc Holliday, a friend of the Earps. The brothers' reputation followed them to Tombstone, where they reported to spend "thousands of hours in saloons…They thrived on the atmosphere, enjoyed the talk and were both inveterate gamblers."
Indeed, the rambunctious and strong personality of Virgil Earp did well in the hustle and bustle of the boomtown.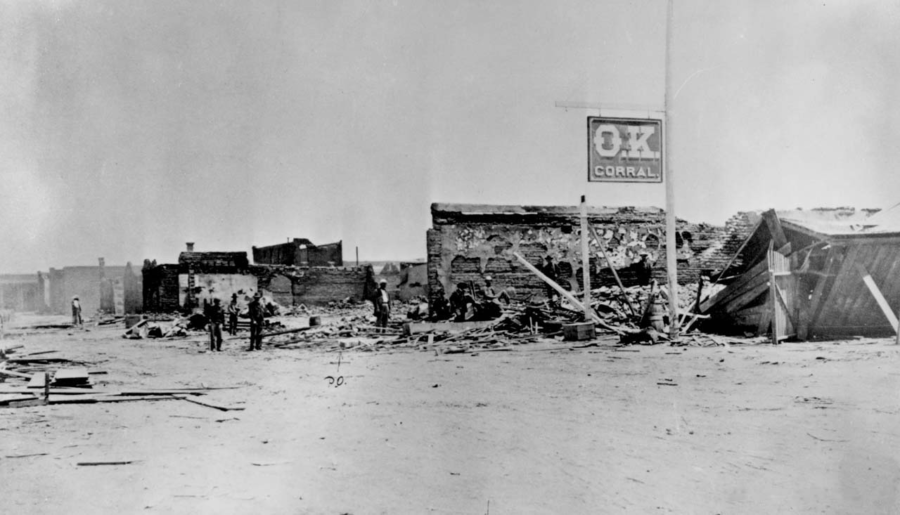 The O.K. Corral in 1882, after the gunfight.
Virgil became Tombstone's deputy on Oct. 30, 1880, after his predecessor was shot and killed and he considered the position to be a battlefield promotion. He led a posse with his brothers and Holliday in which the men ousted any gunslinging criminals in the town of Tombstone — and Virgil was good at his job.
"Mr. Earp is well known as one of the most efficient officers the city has ever had…being fearless and impartial in the discharge of his duty," a local paper called the Epitaph reported of him.
In March 1881, the band of justice-slinging brothers pursued a posse of cowboys who robbed a stagecoach.
Wyatt made a hasty bargain with Ike Clanton, a local rancher, who knew the territory well and regularly hired cowboys to drive his livestock. In return for his assistance, Wyatt would give Clanton a $6,000 bounty on the heads of the stage robbers. But Clanton did not trust Wyatt who in turn thought that the Clanton's had stolen one of his horses.
Suffice it to say, the Earps and the Clantons didn't get along after that. Their relationship quickly turned south. Their feud escalated. Seven months later, it came to a dramatic end.
Gunfight At The O.K. Corral
On Oct. 25, 1881, Ike Clanton came riding into Tombstone. Alongside was his friend, Tom McLaury. Legend has it Clanton was talking out of his head and drunk at a saloon when he bragged he was going to kill one of the Earp brothers.
Doc Holliday took offense and challenged Clanton to a duel. The cattle rancher declined. He was a coward and wanted reinforcements first. On Oct. 26, 1881, Billy Clanton, Ike's brother, and Frank McLaury, Tom's brother, rode into town.
The Earps and Holliday met the two Clantons and McLaurys on the edge of town in an abandoned lot behind a corral. The Earps were determined to disarm the Clanton gang. "Boys, throw up your hands—I want your guns," Virgil reportedly demanded.
The men replied it'd be over their dead bodies and the Earps gladly took them up on that offer.
It's up for debate who shot first, but either way, Ike Clanton went running and his associates, McLaury and Billy Clanton were severely wounded. Before collapsing, both of the wounded men got off a few shots in the cloud of dust. Around 30 shots rang out and after 30 seconds of thunderous crossfire among the eight men, three died and four were wounded, including Virgil who was shot through the left leg. Only one — Wyatt Earp — escaped without injury.
Billy Clanton and the McLaury brothers died and legends of the Gunfight at the O.K. Corral grew into dimestore novel exaggerations and Hollywood films. Modern takes include Tombstone and Wyatt Earp in the 1990s. Sam Elliott portrayed Virgil in Tombstone, while Michael Madsen played the gunslinger in Wyatt Earp.
Black-and-white films in the 1950s portrayed the Earps as law-abiding heroes who saved the day. The reality, though, was that this gunfight spelled doom for the Earps.
Tensions flared after that. Cowboys were not only vital to the economy of Tombstone, but they also offered protection along the outskirts of town but that protective posse which Clanton's group offered was gone after the gunfight.
Ike Clanton was incensed. He pressed murder charges against the Earps but a federal judge cleared the lawmen a month after the shootout.
Clanton took matters into his own hands. In December, Virgil was shot several times by a group of cowboys and he was severely wounded.
In a telegram to Dake Crawley, Virgil's boss, Wyatt wrote, "Virgil Earp was shot by concealed assassins last night. His wounds are fatal. Telegraph me appointment with power to appoint deputies. Local authorities are doing nothing. The lives of other citizens are threatened."
Within 10 days, Wyatt organized a posse and killed several men in retaliation for his brother's injuries. Locals called it a vendetta without a judge.
The blood feuds continued. A month later, a cowboy posse assassinated Morgan and Wyatt, fearing for a weakened Virgil, sent him out of town. Wyatt stayed in Tombstone where he continued to act as judge, jury, and executioner of the town. But this was the Wild West, after all.
Virgil Earp's Golden Years
Wyatt spent the rest of his days in Arizona seeking vengeance in the countryside against anyone who had anything to do with his brother's death.
Virgil Earp and his younger brother, James, took Morgan's body west to California where he was buried in Colton, where his parents lived and Virgil and Allie settled down in Colton, too.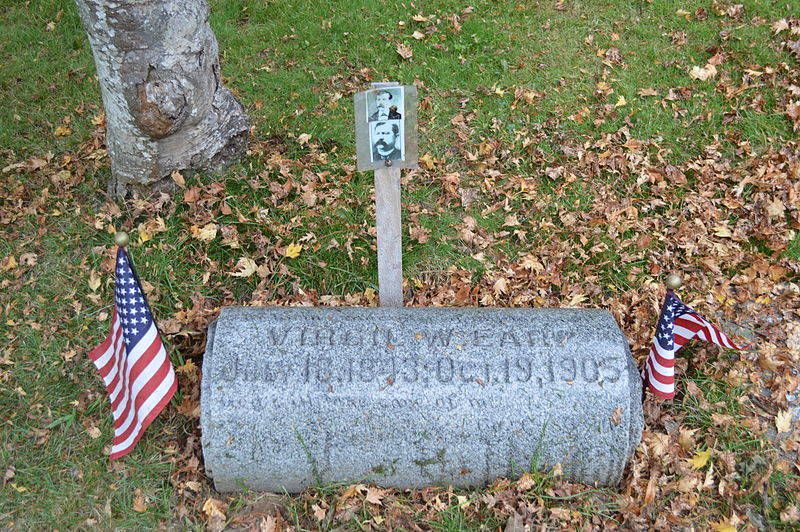 Virgil Earp's grave in Portland, Ore.
Virgil opened his own detective agency in Colton, and on July 2, was elected constable. He later became the marshal of Colton. In April 1893, Virgil moved 150 miles northeast of San Bernardino to the boomtown of Vanderbilt where he built Earp's Hall, Vanderbilt's only two-story building.
The hall hosted gambling and boxing matches, dances and church services, but Virgil sold the hall the next year and he and Allie moved back to Colton. On Jan. 26, 1905, Virgil held his last lawful position as a deputy sheriff of Esmeralda County.
He was well-known and reported on his final days as a sturdy man with a fascinating past. While living quietly towards the end of his life, Virgil was contacted by a woman named Jane Law claiming to be his daughter from first wife, Ellen.
Virgil saw his daughter for the first time in 37 years in the fall of 1898 and he got to meet his two grandchildren then, too. George Law, Virgil's grandson, said in a 1976 interview, that Earp was "A powerful big man. He wasn't fat; he was broad-shouldered. His right arm hung like a rag."
When Virgil died quietly in Nevada in 1905 of pneumonia, his wife sent his body to Portland where his daughter lived. It was a simple burial without pomp, ceremony, or a 21-gun salute. Perhaps Virgil finally had enough of gunfire in his mortal life that he chose to pass away peacefully at age 62.