Ethan Hawke jokes to daughter Maya about his attempt to 'openly flirt' with Rihanna: 'The family shame'
Ethan Hawke was pictured chatting with Rihanna after swapping seats with his son at the 2015 NBA All-Star Game
Ethan Hawke was called out by his daughter Maya Hawke over his attempt to flirt with Rihanna at the 2015 NBA All-Star game.
At the game, Hawke, 52, was pictured in paparazzi photos – that later went viral – having an animated conversation with the singer, 35, as they sat courtside with the actor's then 13-year-old son Levon.
In a recent Variety video, the father/daughter duo was playing a game to determine how well they knew each other when the 25-year-old "Stranger Things" actress was asked if her father would rather attend a Lady Gaga or Rihanna concert.
"I have a very fast answer because that information is really available online," Maya teased while writing down Rihanna's name. "RiRi baby, by a long shot."
ETHAN HAWKE ADDRESSES DIRECTING DAUGHTER MAYA'S SEX SCENES IN NEW FILM: 'I COULDN'T CARE LESS'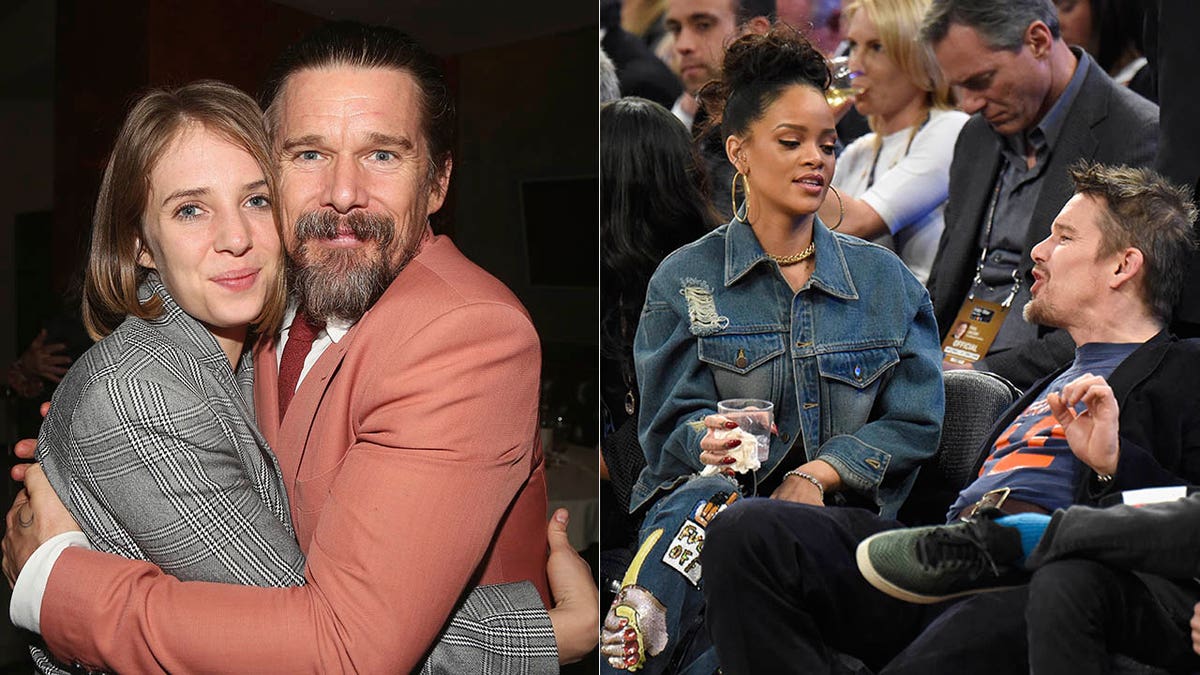 "Yeah, but I have been to a Lady Gaga concert, but I haven't been to a RiRi," Hawke countered.
"Well, that's partly why you would want to go," Maya replied.
Later in the video, the two-time Academy Award nominee directly addressed his encounter with the "Umbrella" songstress.
"I've been caught by the paparazzi openly flirting with Rihanna," he admitted.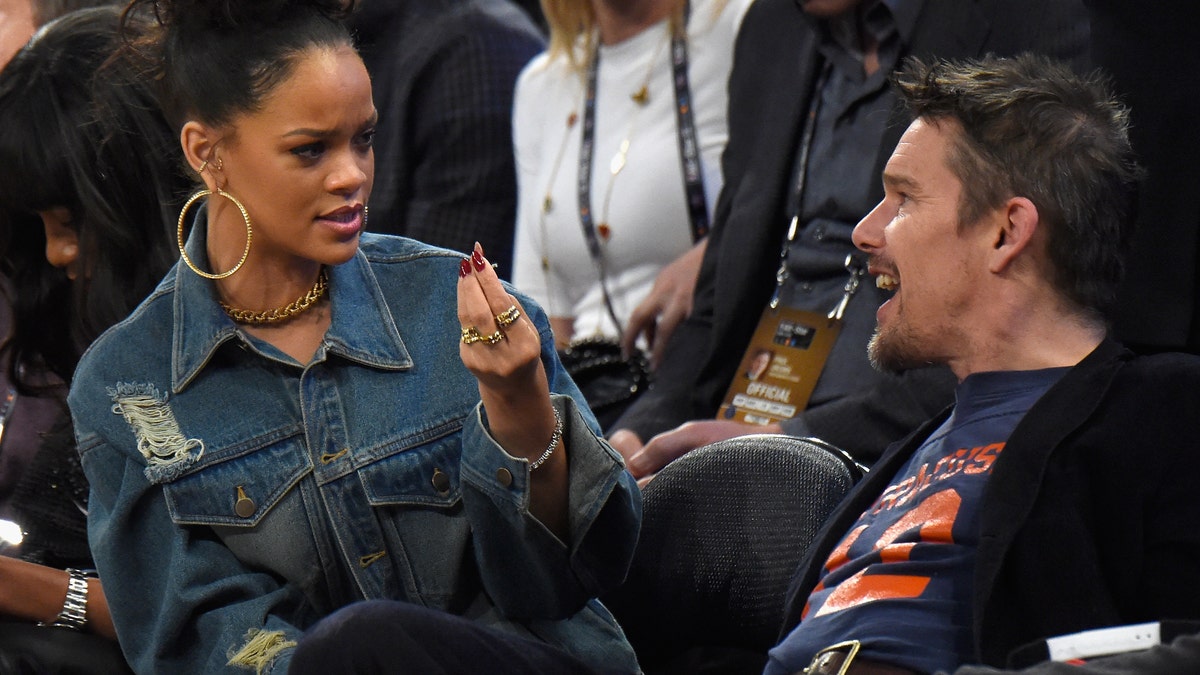 "Openly trying to," Maya quipped.
"So that's been the family shame," Hawke continued. "So you are really touching a nerve."
"No, it's family pride," the "Do Revenge" star said.
The pair recently collaborated on the new movie "Wildcat," which premiered on Sept. 1 at the 50th Telluride Film Festival. Based on the life of novelist Flannery O'Connor, the biographical drama was directed and co-written by Hawke and stars Maya, who was also an executive producer.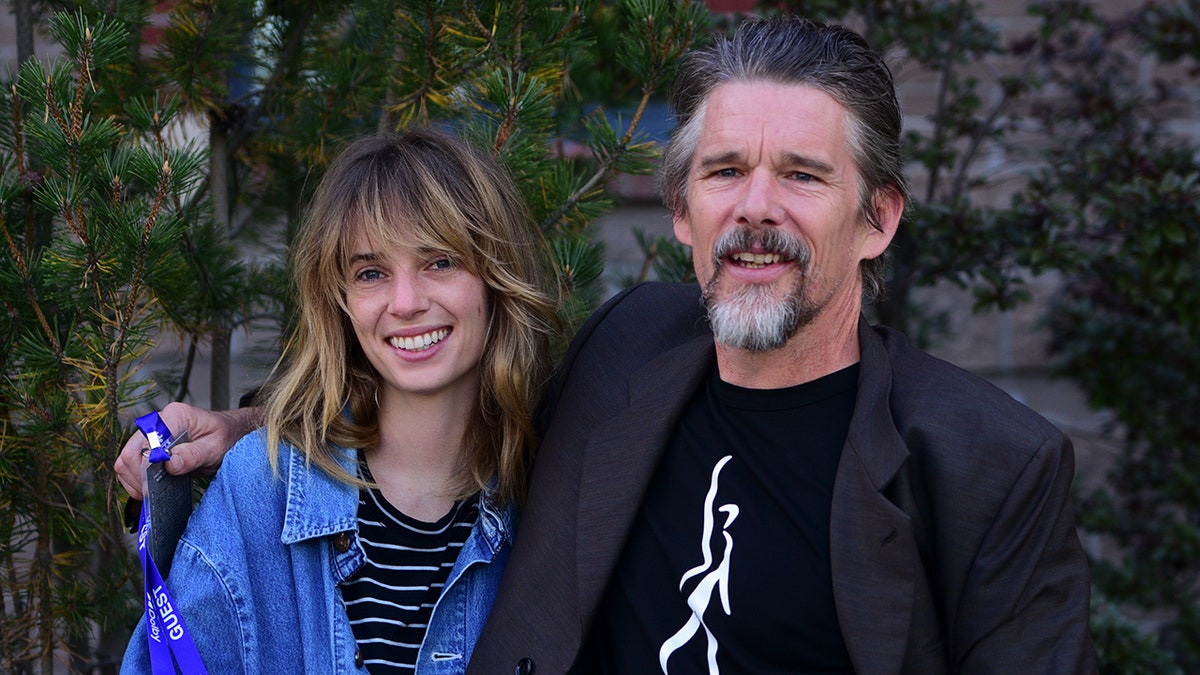 Hawke shares Maya and Levon, now 21, with his ex-wife Uma Thurman, 53, to whom he was married from 1998 to 2005. He married Ryan Shawhughes in 2008, and the two have two daughters together – Clementine, 12, and Indiana, 11.
The "Before Sunrise" actor first joked about his viral moment with Rihanna following the nine-time Grammy Award winner's half-time performance at Super Bowl LVII in February.
CLICK HERE TO SIGN UP FOR THE ENTERTAINMENT NEWSLETTER
Hawke posted a slideshow of throwback photos from the basketball game in which he was seen swapping seats with Levon to sit next to Rihanna.
APP USERS CLICK HERE
In the first photo, Levon was pictured sitting between Hawke and the Fenty Beauty mogul. The father and son switched seats by the next photo, where Hawke could be seen leaning back in his chair and talking to Rihanna while his son face-palmed.
Hawke and Rihanna continued their chat as Levon looked on in the last snap.
"After Rihanna's brilliant half-time performance, I'm hoping my son can find it in his heart to forgive a Dad for taking his moment," the actor wrote in the caption.
However, Levon appeared to take it in stride, commenting, "Iconic content."