'Dukes of Hazzard' star John Schneider's faith saved him after wife's death: 'Would have jumped off a bridge'
Schneider to release new album about late wife Alicia Allain titled 'We're Still Us'
"The Dukes of Hazzard" star John Schneider says his faith has helped him cope with his grief after the death of his wife, Alicia Allain Schneider.
The 63-year-old actor and country star is set to release a new album titled "We're Still Us" in honor of Alicia, who died from breast cancer at the age of 53 in February. In an emotional interview with Fox News Digital, Schneider shared how he believes that leaning on God saved his life.
"If it weren't for my faith, if it weren't for my belief, absolute belief that God is real. Heaven is real. The promise of God that Alicia and I will see each other again forever. If it weren't for that, I think I would have jumped off a bridge," Schneider said.
'DUKES OF HAZZARD' STAR JOHN SCHNEIDER HOPES ALBUM HE WROTE TO 'HONOR' LATE WIFE WILL HELP OTHERS GRIEVING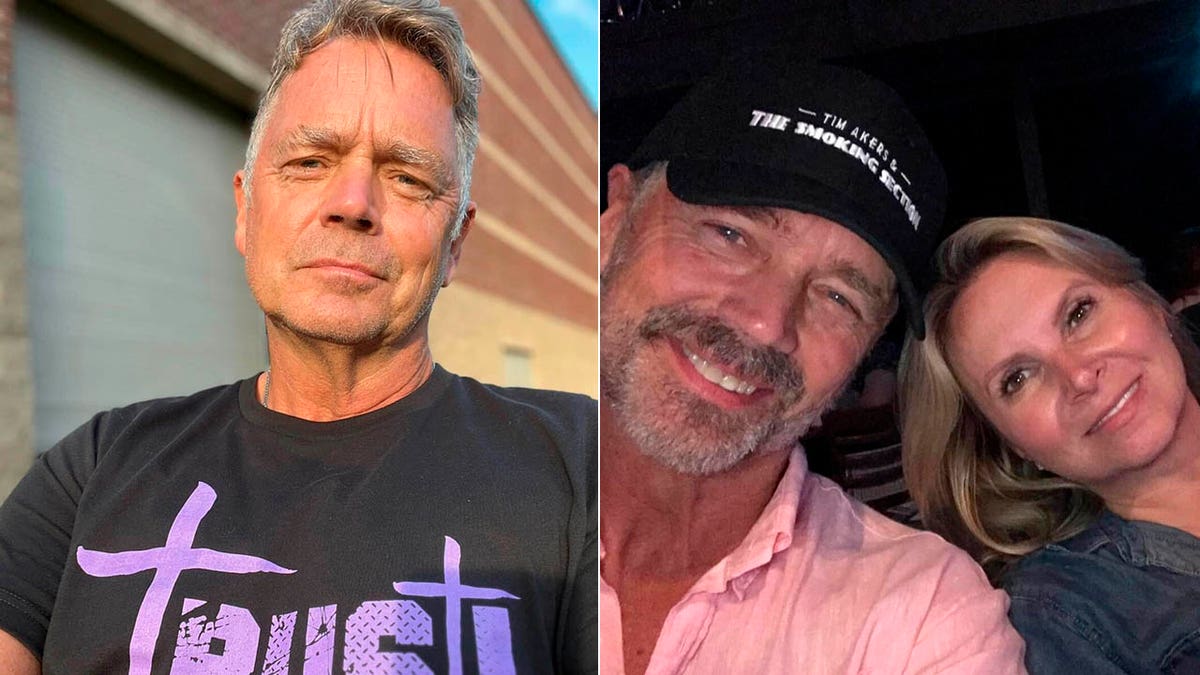 He continued, "But I believe because my grandmother instilled it in me with one very brief conversation. I was about 8 years old, and she said, 'Johnny, one of these days, I'm not going to be here anymore, but don't worry, I'll be with Jesus and you will see me again.'"
The singer recalled how his mother, Shirley Conklin, lost her first son, John, in 1957, who died of lung failure three years before Schneider was born.
"My mother has passed away," he said. "Our belief was that as soon as she gets to heaven, she'll see Johnny Michael again. So, this has been instilled in me for my whole life. But just that simply when you die, you will see those that you love again."
"That's pretty simple. I'm pretty simple, so I take that at face value. So, when I tell people that, I believe immediately after my last breath here will be my first breath there. And it will be Alicia's hand I'll be holding."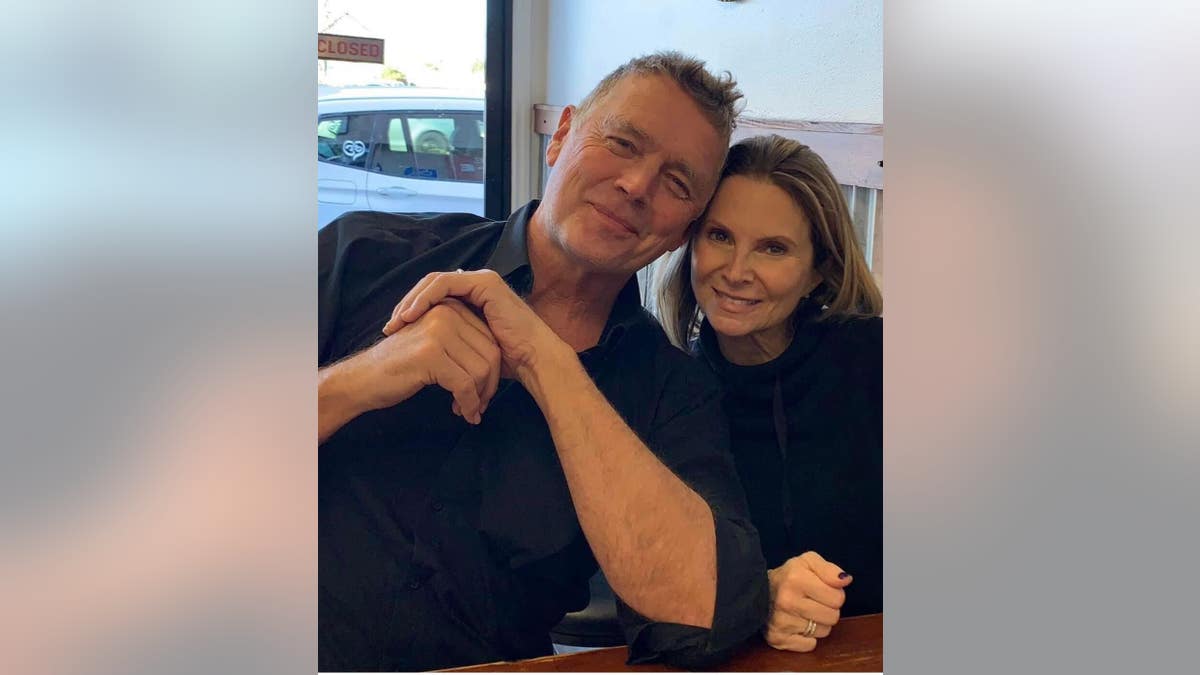 Schneider said he realized he would only be able to reunite with Alicia again by being patient and trusting in God.
"I look forward to that day," he explained. "And I tell people, you know, I can't wait to get there, but I will. I will wait. I also believe jumping off a bridge is a sin that would keep me from actually seeing Alicia again."
He continued, "So, I won't do that. I absolutely won't do that. But I understand the level of grief, sadly, that people go through. So, they need this kind of encouragement. We need this kind of encouragement and assurance that it's all real."
"I want people who are grieving to know that this is a temporary situation. Your love has been put on pause. Your love has not been stopped. Your love has not been discarded. It has been put on pause. Be patient. You'll get there, and they will be waiting."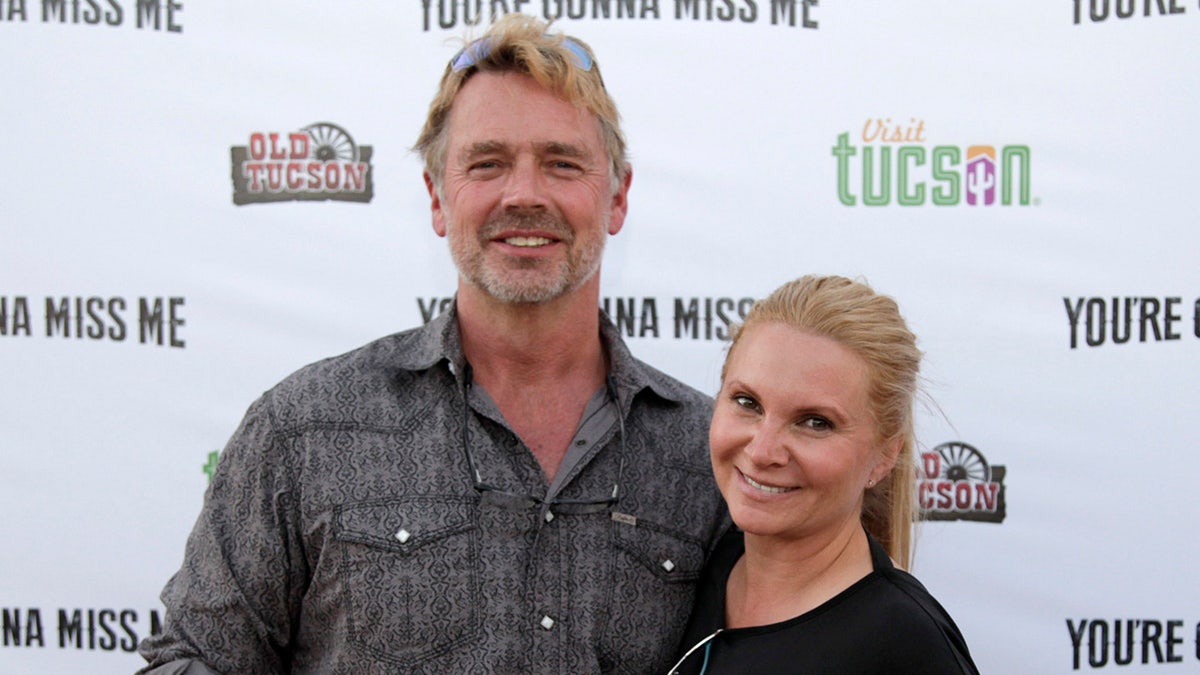 Alicia was a veteran producer and actress who was known for her roles in the 1991 films "Leather Jackets" and "Caged Fear" as well as 2002's "Auto Focus," which she also produced. She met Schneider in 2014 when she approached the actor about collaborating on a project.
The two began dating in 2015 and would go on to become indie-filmmaking partners and co-songwriters. Alicia, who was also the founder of the production company Maven Entertainment, became Schneider's manager before they tied the knot in 2019.
In his interview with Fox News Digital, the "Smallville" alum described Alicia as a "force of nature."
"This woman was a force," he said. "I'm not just saying it because I love her more than I love me. I want people to know that it was my relationship with her — it was her that inspired me to do great things, not the other way around. I never would have gotten back into music if it weren't for her. We made 11 films and 14 albums in eight years."
WATCH: DUKES OF HAZZARD STAR JOHN SCHNEIDER EMOTIONALLY RECALLS TRIBUTE TO LATE WIFE AT DAUGHTER'S WEDDING
John and Alicia continued working together on film and music projects throughout her four-year cancer battle and released the patriotic film "To Die For" in October 2022.
In 2019, Alicia was diagnosed with stage 4 HER2-negative cancer following the discovery of a lesion during a routine dermatologist visit.
During a 2020 appearance on "Fox & Friends," the couple discussed her cancer battle, with Schneider saying that his wife was "three years into a five-year shelf life" at the time of her diagnosis. However, the musician revealed that Alicia's cancer had gone into remission that year.
'DUKES OF HAZZARD' STAR JOHN SCHNEIDER CHERISHES LATE WIFE IN BLISSFUL DANCING VIDEO: 'A BEAUTIFUL MOMENT'
In 2021, the pair discovered that Alicia's cancer had returned and metastasized to the bone. She was transferred from the hospital to hospice care in February. Later that month, Schneider announced on Facebook that she had died while surrounded by family at the couple's home in Louisiana.
Following Alicia's death, Schneider has written daily "letters to heaven" to his late wife, which he shares on Facebook. During his interview with Fox News Digital, the actor recalled how he came to have her thumbprint tattooed on his hand.
"Alicia and I always held hands," he said. "When she passed, our daughter and I were at the funeral home, and a woman who was a dear friend of Alisha runs the funeral home, and she said, you know, we do thumbprints now."
Schneider continued, "I think she certainly wasn't thinking of a tattoo. But as soon as she said that, I thought, 'I'm going to get Alisha's thumbprint, put where her thumb spent eight years.'"
The New York native shares daughter Leah with his ex-wife, Elvira "Elly" Castle, and also adopted her three children from her previous marriage. Alicia shared daughter Jessica with her ex-husband, Patrick Dollard.
While speaking to Fox News Digital, Schneider shared that Jessica and fiancé Daniel Turner married at Alicia's bedside after she was moved to hospice care. The couple's wedding date was set for March 12, but after Alicia's condition worsened in February, they decided to exchange vows earlier.
"God bless Jessica and Daniel because when we brought Alicia home for hospice, they had a pastor friend come in and got married the very first day so that Alicia could give her away," he remembered. "It was wonderful. It was delightful. And I'm so very, very proud of Jessica and Daniel for making that happen."
He continued, "That was Alicia's wish. … She wanted to give Jessica away, and she did. It was pretty spectacular. You know, there are great things that come out of this. You have to look for them. There are very sad things that come out of this. But again, as a person of faith, I do absolutely believe I will see and hold and kiss and dance with her again."
A month later, Jessica and Turner married again on their official wedding date. During his interview, Schneider recalled how he honored Alicia during the nuptials.
"It's going to be hard for me to say this," he said as he teared up. "But we brought her wedding dress that she was supposed to be wearing. And it was sitting in the front pew where Alicia would be sitting next to me, and I thought, you know, this is just a dress. Unless I hold it. So, I picked it up, and I held it for the duration of the wedding."
"To the point where I walked down the aisle holding that dress," he continued. "I had a friend come over and say, 'John, you know, you don't need to hold that. And I said, 'Don't touch it. You know, this is my way of being here with Alicia.'"
WATCH: DUKES OF HAZZARD STAR JOHN SCHNEIDER TALKS HONORING HIS LATE WIFE WITH NEW ALBUM
Schneider explained that another way he pays tribute to his late wife is through music. After Allain passed away, he began composing and recording an album about her titled "We're Still Us" that is dedicated to her memory.
"It's an unusual title, but it's an important title for me because I believe we are still us," he told Fox News Digital. "I believe that [is] when people are joined together, truly joined together by God."
'DUKES OF HAZZARD' STAR JOHN SCHNEIDER TALKS WIFE ALICIA ALLAIN'S CANCER BATTLE
He continued, "And there's a difference. I try to explain this to people, but if you've ever met somebody, and then you felt – and I don't mean necessarily romantically – but you meet somebody, and you go, 'Oh my gosh, I've known you before. We are old friends from hello."
"When you have that with love attached with your wife, your significant other – it's an entirely different animal," Schneider added. "The No. 1 thing people say is with great love followed by a loss comes great grief. Well, I can attest to that. But my way of working through that – which I still am doing, and I suspect I'll be doing it perhaps for the rest of my life – was to gather incredibly talented songwriters together to do an immediate tribute as this was brand new."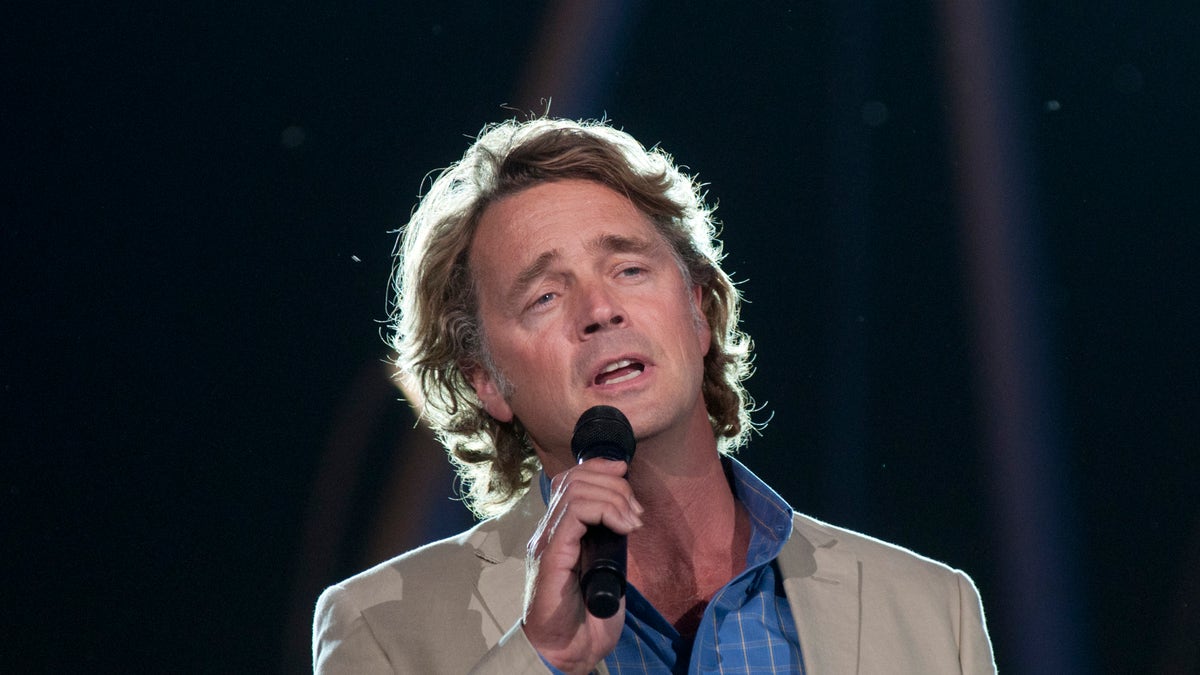 Schneider recalled that he began working on the album soon after Alicia's passing since he wanted the music to be "fresh" and "raw." He told Fox News Digital that in addition to helping him process his own grief, he hoped "We're Still Us" will help others who were struggling after losing loved ones.
"This grief that I'm going through, that many people are going through, doesn't seem to wear down," he said. "It's always fresh. It's always raw. I did not know that when we first sat down to write this music. But I'm very proud of it because no one is more spokesperson for those of us who grieve. People are afraid of it. You know, they don't know what to say. Sadly, I do."
In July, the "Stay" singer revealed his plans for an album honoring Alicia during his first public appearance since her death. Since then, Schneider has started attending more events, telling Fox News Digital that he would be reuniting with his "The Dukes of Hazzard" castmates Tom Wopat and Catherine Bach at Retro Con in Philadelphia this weekend.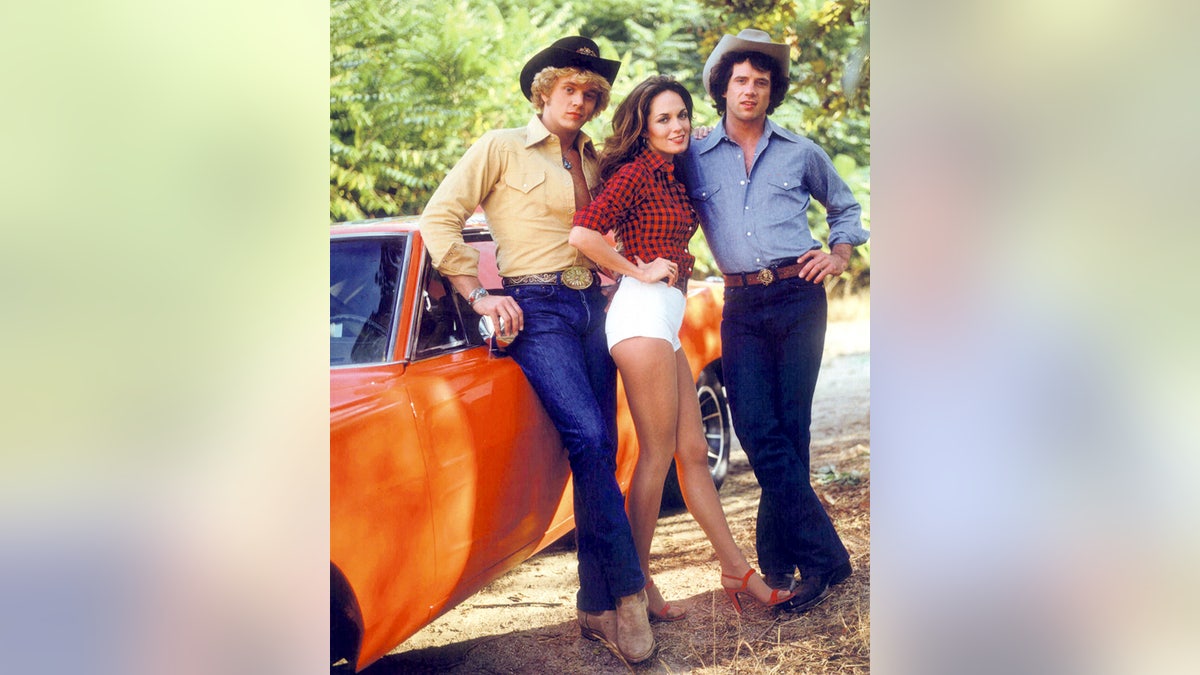 Schneider starred as Beauregard "Bo" Duke on the mega-hit show from 1979 to 1985. He told Fox News Digital that he was looking forward to seeing his former co-stars and had received support in his grief from Bach, whose husband, Peter Lopez, died by suicide in 2010.
"It's going to be good to see them, especially, you know, Catherine lost her husband a decade ago," he said. "So, I've been talking a lot with Catherine about, you know, 'What is this? What do we do with this?' And she said, 'Basically, hang on. Just hang on and we will not get over it. But we will get through it."
CLICK HERE TO SIGN UP FOR THE ENTERTAINMENT NEWSLETTER
He continued, "It will become more tolerable. And I'm looking forward to that. But, you know, it's so odd. At the same time I'm looking forward to that, I'm not wanting that because I don't want to diminish – or to appear to be diminishing – my love for her in any regard."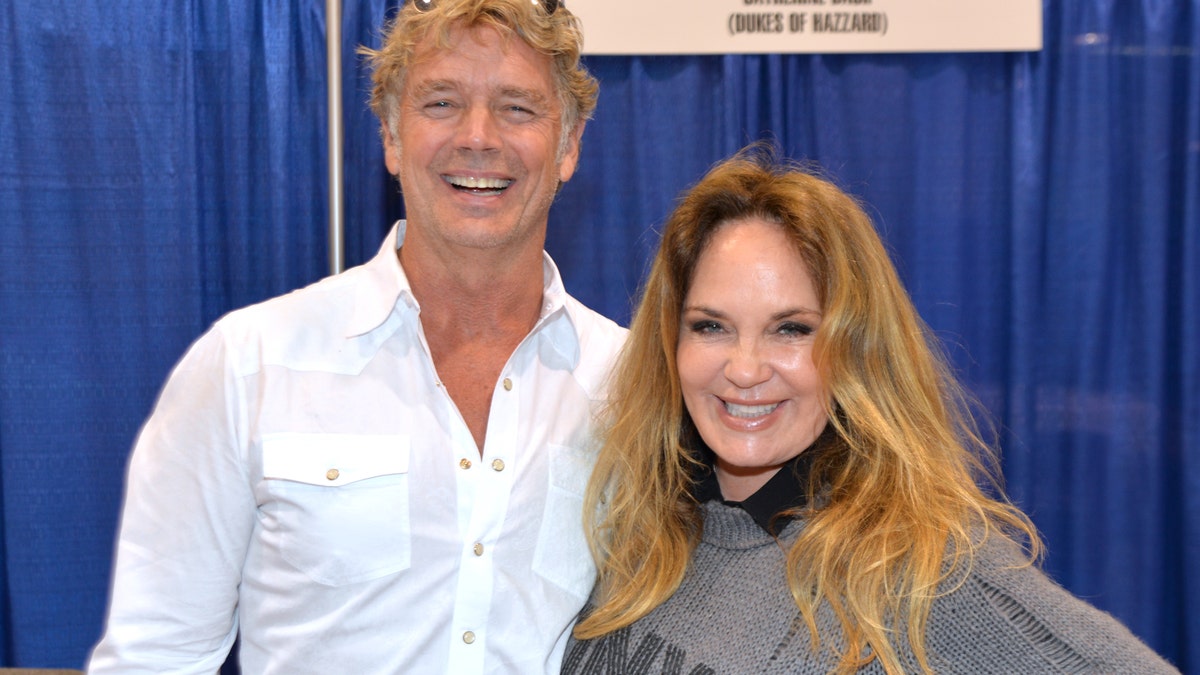 "But then, I have to hearken back on my mom. When my mom lost her first son, I wasn't even around yet. And her love for Johnny Michael didn't diminish in 50 years. I mean, not a bit. So, I don't believe that my love for Alicia will diminish as I get through this."
Schneider also shared his advice for other people who are mourning the death of a partner.
"If you are on this road, or you find yourself on this road, please seek other people who are on it," he said. "Only people who have lost a spouse – I'm talking about a spouse. I've never lost a child. I have lost a spouse. If you have lost a spouse, find someone who has also lost a spouse and hang out with them. We are the only people who get it. We are the only people who can help."
"Seek them out and do not be afraid to wear your heart on your sleeve," he added. "Do not be afraid to cry publicly. If you try to hide that, it will hurt you. Please don't. It's painful enough without doing that to yourself."