Trump wax figure pulled from Texas display after visitors attacked it – reports
Statue of ex-president apparently had deep gouges inflicted by museum patrons who clawed and punched it, local report said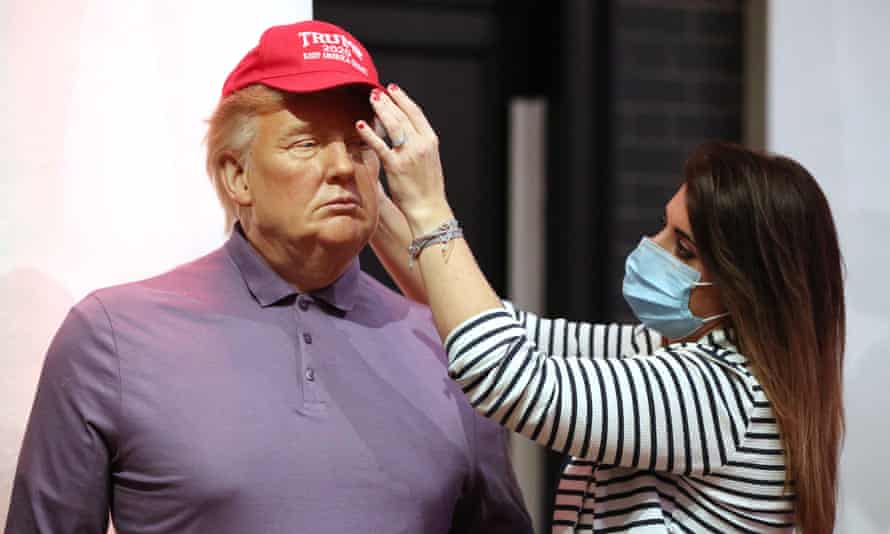 A wax figure of Donald Trump has been pulled from the display of a wax works exhibit after visitors keep attacking it, local US media have reported.
"When it's a highly political figure, attacks can be a problem," said Clay Stewart, the regional manager for Ripley Entertainment, which owns the Louis Tussaud's Waxworks in San Antonio, Texas.
The figure of the former US president apparently had deep gouges inflicted by patrons to the museum who clawed and punched it, according to the San Antonio Express News newspaper.
Stewart told the Express News: "We've always had trouble with the presidential section because no matter what president it was – Bush, Obama or Trump – they've all had people beat them. The ears were torn off Obama six times. And then Bush's nose was punched in."
It is not the first time a statue of a Trump family member has been defaced. A statue to ex-first lady Melania Trump in her native Slovenia was removed after being set on fire by vandals.
In a statement Suzanne Smagala-Potts, public relations manager for Ripley Entertainment Inc, said the firm had no political leanings and repairing its public figures was common.
"When a wax figure has been damaged, we will remove the figure from public display and send it to our talented team of artists for repair," Smagala-Potts said.
… as you join us today from India, we have a small favour to ask. You've read more than
in the last year, making you one of our top readers globally. And you're not alone; through these turbulent and challenging times, millions rely on the Guardian for independent journalism that stands for truth and integrity. Readers chose to support us financially more than 1.5 million times in 2020, joining existing supporters in 180 countries.
For 2021, we commit to another year of high-impact reporting that can counter misinformation and offer an authoritative, trustworthy source of news for everyone. With no shareholders or billionaire owner, we set our own agenda and provide truth-seeking journalism that's free from commercial and political influence. When it's never mattered more, we can investigate and challenge without fear or favour.
Unlike many others, we have maintained our choice: to keep Guardian journalism open for all readers, regardless of where they live or what they can afford to pay. We do this because we believe in information equality, where everyone deserves to read accurate news and thoughtful analysis. Greater numbers of people are staying well-informed on world events, and being inspired to take meaningful action.
In the last year alone, we offered readers a comprehensive, international perspective on critical events – from the Black Lives Matter protests, to the US presidential election, Brexit, and the ongoing pandemic. We enhanced our reputation for urgent, powerful reporting on the climate emergency, and made the decision to reject advertising from fossil fuel companies, divest from the oil and gas industries, and set a course to achieve net zero emissions by 2030.
If there were ever a time to join us, it is now. You can power Guardian journalism and help sustain our future.