Home
News
ELECTION DAY LIVE BLOG: TheBlaze has you covered all day with updates on voting stories, campaign pushes, polls, and state-by-state results
ELECTION DAY LIVE BLOG: TheBlaze has you covered all day with updates on voting stories, campaign pushes, polls, and state-by-state results
Welcome to TheBlaze's Election Day Live Blog.
Today is likely to be a very long day as President Donald Trump and former Vice President Joe Biden race to 270 Electoral College votes. Plus, control of the U.S. Senate is up for grabs, and the House of Representatives results could be close.
Whatever happens today, we've got you covered — all day.
Last Update: 22 minutes ago
Sen. Rubio also saying GOP turnout in FL is looking good
Unlike the left, Trump supporters don't expect chaos or violence if their guy loses. Instead, they'll just go on with their lives
BuzzFeed has an interesting and telling report about how Trump supporters will respond if their candidate loses. The story provides a stark contrast to the threats of violence, chaos, and destruction coming from the left should Biden lose.
According to BuzzFeed, "most Trump supporters told BuzzFeed News they don't foresee chaos or mayhem breaking out if Trump loses. Instead, they see themselves going on with their lives."
A few examples from the piece:
"If he doesn't win, well, we go back to our normal life. But the reason why we're here is that we want him to win." — James Rubin, Pennsylvania.

"Most conservatives, we're not going to riot on the streets. If he loses, he loses. It is what it is." — Edward Valera, Florida.

"Well, we'll keep going. We'll keep going and we'll see what happens. But I hope that he will win." — Mara Young, Florida

"Well, I mean, it's America, we have elections. Somebody wins and somebody loses and you accept the outcome of the election. You might not like it for a while, but there'll be another election." — Michael Donahue, New Jersey
Read the whole BuzzFeed report here.
Gov. Ron DeSantis: Florida turnout is YUGE
Florida Gov. Ron DeSantis says Election Day turnout "looks really good" for President Trump.
DeSantis noted that the GOP ballot deficit headed into election day was smaller than it was in 2016, and that turnout so far to day among Republicans is huge.
"If that keeps up, I think the president is going to be in a really good position," DeSantis said.
"I think he's much better positioned this year than he was in '16," he added.
Trump owns the 'cookie poll'
Lochel's — a family-owned bakery in Hatboro, Pennsylvania — has been running a "cookie poll" to coincide with the presidential election ever since the 2008 contest.
Well, the bakery told Fox News that despite all the scientific polls revealing huge leads for Democratic nominee Joe Biden, the cookie poll at Lochel's shows Trump the winner by a wide margin — almost 6 to 1.
Read more here.
Good news from the CDC: If you're quarantined because you have COVID, you can leave your house to vote in person
We've seen a surge in COVID-19 cases nationwide over the last couple of weeks in the lead up to Election Day.
According to the CDC, anyone who has COVID absolutely must self-quarantine for the good of everyone else. The disease is so dangerous, so deadly, so contagious, your right to gather peaceably, to practice your religion, to practice your free speech should be curtailed.
But according to the CDC, being a known carrier of COVID cannot curtail your right to vote.
From the CDC's website:
Voters have the right to vote, regardless of whether they are sick or in quarantine.
Voters who are sick or in quarantine should take steps to protect poll workers and other voters. This includes wearing a mask, staying at least 6 feet away from others, and washing your hands or using hand sanitizer before and after voting. You should also let poll workers know that you are sick or in quarantine when you arrive at the polling location. Check with local authorities for any additional guidance.
Good to know that COVID is not as dangerous when you're engaging in the right to vote.
All voting machines in Georgia county temporarily go down. Trump won that county in 2016.
"The Secretary of State's office says the system should be back up after human error caused major problems at polling places across Spalding County today, but many precincts are still dealing with issues."
New ad from the political grifters at the Lincoln Project features Harrison Ford making the case for ... Anthony Fauci
The anti-Trump crew of onetime Republican politicos and consultants at the Lincoln Project dropped a new political ad last night featuring the voice of Harrison Ford.
The ad says only one person can be fired with this election: President Trump or Dr. Anthony Fauci.
It's interesting to watch the grifters at the Lincoln Project spending a lot of money working against the people they once courted for millions of dollars in donations for their previous GOP candidates.
(H/T: HotAir)
Clay Travis reveals 'staggering' number of people in sports world are voting for Trump, scared of backlash
Sports commentator Clay Travis revealed Monday that a "staggering" number of people in the sports world from all walks of life have told him privately that they will vote for President Donald Trump.
Read more here.
Obama calls President Trump a 'two-bit dictator' over reports POTUS will pre-emptively claim victory on election night
Former President Barack Obama ramped up the rhetoric against President Donald Trump at a campaign rally for Democratic presidential candidate Joe Biden Monday night, calling the president a "two-bit dictator."
Read more here.
I second the shaming of Pandolfo
Here's another version of Chris Pandolfo's "you can't lose if you don't play" map. He needs to be called out for hedging his bets and cowering away from making a prediction. Sad!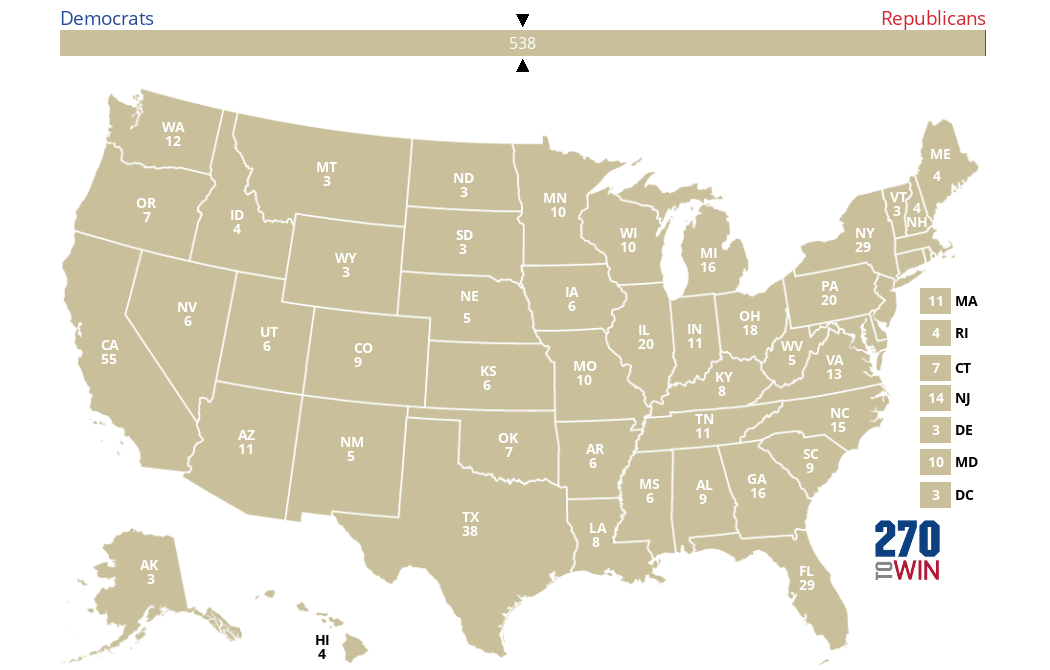 Click the map to create your own at 270toWin.com
Biden campaign more or less concedes Texas
On a campaign call Tuesday, the Biden campaign estimated that President Trump needs about 49% of the Election Day vote in Texas to win the state. This suggests they already have him ahead in the early vote, which means Trump is likely to win the lone star state.
So much for the Democratic dreams of flipping Texas blue.
The most winningest-president ever wins Pennsylvania, Michigan, Wisconsin, Minnesota, and the libs cry all the way home while we drink their salty tears.
My boy Pandolfo's map is ... shameful. Take a stand, lady.
Trump says he won't "play games" and declare victory early
Contrary to many reports from legacy media figures, Trump announced this morning on Fox and Friends that he does not intend to prematurely declare victory tonight if the early returns are in his favor. Trump told the F&F hosts that he will declare victory only if there's a real victory and that there's "no reason to play games."
My own personal point of curiosity with this year's election centers around whether we'll have a winner declared by the end of the night tonight. I personally put those chances at less than 40%, but we'll see.
IMHO the election comes down to Pennsylvania. If Trump has a big enough lead on Election Night to overcome thousands of mail-in votes that will be counted over the next three (or more) days, he'll win. But if it's too close to call tonight, I think Biden wins.
We won't know for sure for weeks.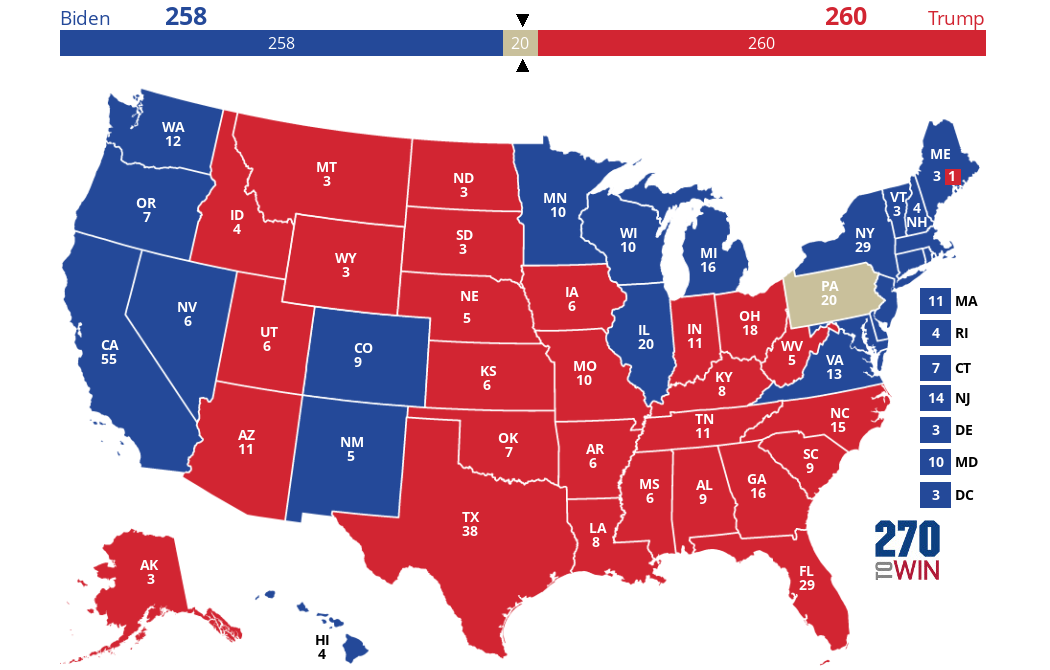 Click the map to create your own at 270toWin.com
I learned in 2016 not to count Trump out
My guess is Trump is still underrepresented by about 2-4% in most battleground state polls, so I think he keeps the Sun Belt states and carries Pennsylvania for four more years.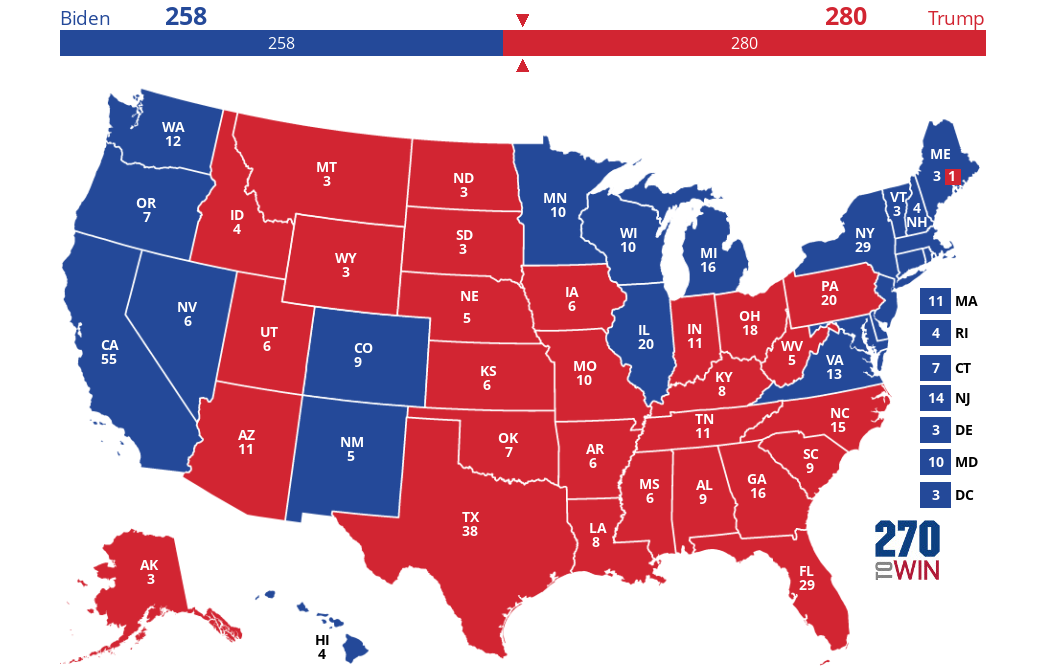 Click the map to create your own at 270toWin.com
Sarah's map is not the first I've seen that has Trump winning Florida, but losing Georgia. That seems to be a relatively trendy pick. I personally do not see it. If Trump wins FL, I think he has to also win GA. I still think, at the end of the day, that Georgia is significantly more pro-Trump than Florida. I COULD see him winning GA and losing FL, but not the other way around.
This being Trump, though, I am not putting too much money on that prediction. The normal rules don't apply.
The *correct* Electoral College map prediction
This is my final prediction for the 2020 Electoral College result. It is decidedly more optimistic than that of Deputy Managing Editor Chris Field.