The 40 best albums to listen to while you're self-isolating, from Madonna's 'Like a Prayer' to Pink Floyd's 'Dark Side of the Moon'
Some records are so good that they can change your life. Our critics
Helen Brown
,
Chris Harvey
and
Roisin
pick the albums you need to hear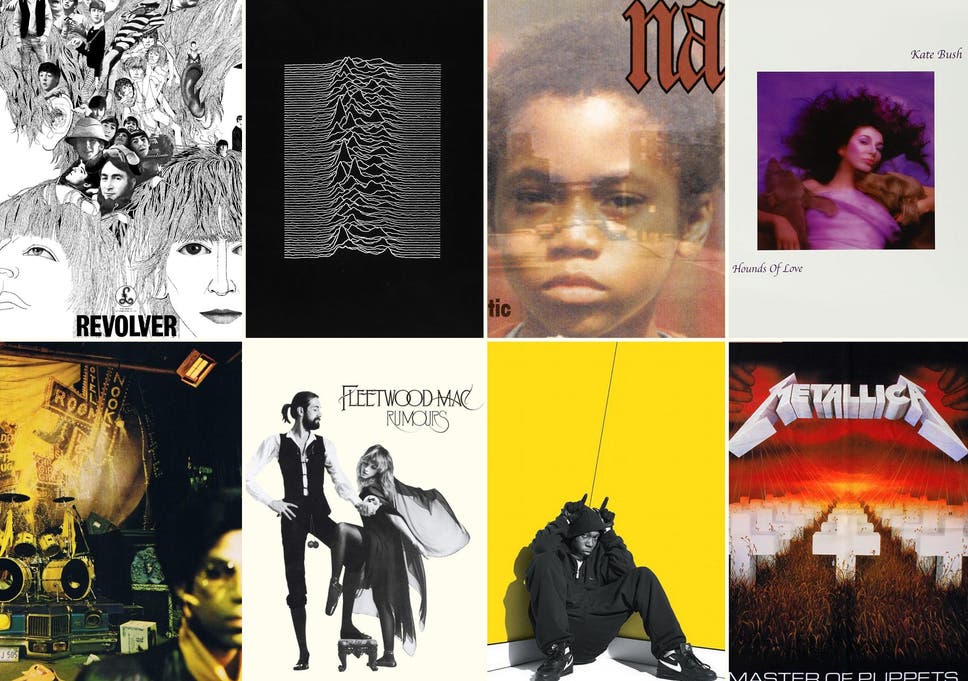 W

hen was the last time you listened to an old album from start to finish? With our ears set to shuffle since the death of the CD, only the vinyl fetishists seem to do it any more. Consequently we can end up believing we have solid opinions on records we may never have given our honest and sustained attention. I didn't want to include

Pink Floyd

's

Dark Side of the Moon

. Then I played it to my nine-year-old son, who doesn't share any of my cultural baggage. Watching it blow his mind, I changed mine.
So. This list is designed for anybody interested in extending their aural attention span and genuinely challenging their preconceptions. We've included classics and curveballs, because "to list" can also mean to tilt.
Most of our personal favourites aren't here, because we've tried to pick the records that broke new ground rather than those that refined old sounds. Hopefully you can still feel the electricity of invention in The Beatles' Revolver, Public Enemy's It Takes a Nation of Millions to Hold Us Back and Nas's Illmatic. Hopefully you can hear the influence of these albums on some of your own favourites. Hopefully, you'll use the comment section to tell us what surprised you and what confirmed your suspicions. But first, the olde English meaning of list, or "lyst": shush and harken. Helen Brown
The Velvet Underground & Nico (1967), The Velvet Underground
It was Andy Warhol who wanted Lou Reed and John Cale to let his beautiful new friend Nico sing with their avant-garde rock band. Truthfully, though, Victor Frankenstein himself couldn't have sewn together a creature out of more mismatched body parts than this album.
It starts with a child's glockenspiel and ends in deafening feedback, noise, and distortion. Side one, track one, "Sunday Morning", is a wistful ballad fit for a cool European chanteuse sung by a surly Brooklynite. "Venus in Furs" is a jangling, jagged-edge drone about a sex whipping not given lightly. "I'll Be Your Mirror" is a love song. "European Son" is rock'n'roll turned sonic shockwave. That's before you even get on to the song about buying and shooting heroin that David Bowie heard on a test pressing and called "the future of music". Half a century on, all you have to do is put electricity through The Velvet Underground & Nico to realise that he was right. Chris Harvey
I Never Loved a Man the Way I Love You (1967), Aretha Franklin
When Jerry Wexler signed the daughter of a violent, philandering preacher to Atlantic records, he "took her to church, sat her down at the piano, and let her be herself". The Queen of Soul gave herself the same space. You can hear her listening to the band, biding her time before firing up her voice to demand "R-E-S-P-E-C-T", 50 years before the #MeToo movement. HB
Master of Puppets (1986), Metallica
Despite not featuring any singles, Metallica's third album was the UK rock radio breakthrough they'd been looking for. In 1986, they released one of the best metal records of all time, which dealt with the potency and very nature of control, meshing beauty and raw human ugliness together on tracks like "Damage Inc" and "Orion". This album is about storytelling – the mediaeval-influenced guitar picks on opener "Battery" should be enough to tell you that. Although that was really the only mediaeval imagery they conjured up – they ripped Dungeons & Dragons clichés out of the lyrics and replaced them with the apocalypse, with bassist Cliff Burton, drummer Lars Ulrich, guitarist Kirk Hammett and singer/rhythm guitarist James Hetfield serving as the four horsemen. Roisin O'Connor
Remain in Light (1980), Talking Heads
"Facts are simple and facts are straight / Facts are lazy and facts are late…" sang David Byrne, submerging personal and planetary anxieties about fake news and conspicuous consumption in dense, layers and loops of Afrobeat-indebted funk. Propulsive polyrhythms drive against the lyrical pleas for us to stop and take stock. Same as it ever was. HB
Catch a Fire (Jamaican version) (1973), Bob Marley and the Wailers
The album that carried reggae music to the four corners of the world and made Bob Marley an international superstar also set the political tone for many artists to follow. Marley sang of life "where the living is hardest" in "Concrete Jungle" and looked back to Jamaica's ignoble slaving past – "No chains around my feet but I'm not free". He packed the album with beautiful melodic numbers, such as "High Tide and Low Tide", and rhythmic dance tracks like "Kinky Reggae". Released outside of Jamaica by Island Records with guitar overdubs and ornamentation, the original Jamaican version is a stripped-down masterpiece. CH
Revolver (1966), The Beatles
An unprecedented 220 hours of studio experimentation saw George Martin and The Beatles looping, speeding, slowing and spooling tapes backwards to create a terrifically trippy new sound. The mournful enigma of McCartney's "For No One" and the psychedelia of Lennon's "Tomorrow Never Knows" and "She Said, She Said" can still leave you standing hypnotised over the spinning vinyl, wondering if the music is coming out or being sucked back in. HB
Like a Prayer (1989), Madonna
It may be the most "serious" album she's ever made, yet Like a Prayer is also Madonna at her most accessible – pulling no punches in topics from religion to the dissolution of her marriage. In 1989, her personal life was tabloid fodder: a tumultuous marriage to actor Sean Penn finally ended in divorce, and she was causing controversy with the "Like a Prayer" video and its burning crosses.
On the gospel abandon of the title track, she takes the listener's breath away with her sheer ambition. Where her past records had been reflections of the modern music that influenced her, Like a Prayer saw her pay homage to bands like Sly & the Family Stone and Simon & Garfunkel. The album was also about an artist taking control over her own narrative, after releasing records that asked the audience – and the press – to like her. RO
Led Zeppelin IV (1971), Led Zeppelin
Millennials coming at this album can end up feeling like the guy who saw Hamlet and complained it was all quotations. Jimmy Page's juggernaut riffs and Robert Plant's hedonistic wails set the bench mark for all subsequent heavy, hedonistic rock. But it's worth playing the whole thing to experience the full mystic, monolithic ritual of the thing. Stairway? Undeniable. HB
The Best of the Shangri-Las (1996), The Shangri-Las
Oh no. Oh no. Oh no no no no no, no one ever did teen heartbreak quite like the Shangri-Las. Long before the Spice Girls packaged attitude for popular consumption, songwriter Ellie Greenwich was having trouble with a group of teenagers who had grown up in a tough part of Queens – "with their gestures, and language, and chewing the gum and the stockings ripped up their legs". But the Shangri-Las sang with an ardour that was so streetwise, passionate and raw that it still reaches across more than half a century without losing any of its power. "Leader of the Pack" (co-written by Greenwich) may be their best-known song, but they were never a novelty act. This compilation captures them at their early Sixties peak. CH