Footballer Kyle Walker sorry for hosting party 'with two sex workers' while urging fans to stay at home during coronavirus lockdown
British tabloids, including The Sun, posted details over the weekend of a gathering Walker held at his home, which included two sex workers and a friend.
The meeting breaks the UK's current lockdown laws, which
ban gatherings of more than two people
and states that Britons must not leave their homes apart from for essential reasons, and only with members of their own household.
Last month Walker had urged supporters to follow those rules, writing on Twitter: "On a serious note though, please everyone stay home, look after one another through this difficult time and check in on loved ones but don't visit them."
In a statement sent to CNN by Walker's agency, the England full-back said: "I want to take this opportunity to issue a public apology for the choices I made last week which have resulted in a story today about my private life in a tabloid newspaper.
"I understand that my position as a professional footballer brings the responsibility of being a role model. As such, I want to apologise to my family, friends, football club, supporters and the public for letting them down," he added.
"There are heroes out there making a vital difference to society at the moment, and I have been keen to help support and highlight their amazing sacrifices and life-saving work over the past week.
"My actions in this matter are in direct contrast to what I should have been doing regarding the lockdown. And I want to re-iterate the message: Stay home, stay safe."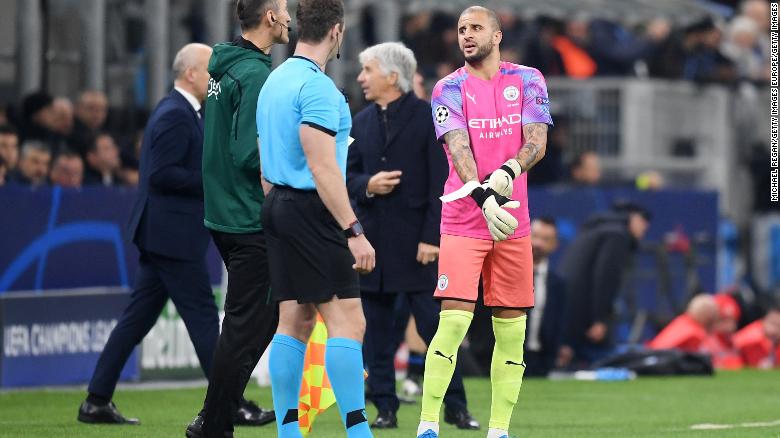 Walker has 48 England caps and is a first-team member in both the national team and Manchester City's squads.
Manchester City have not responded to CNN's requests for comment. In a statement sent to the BBC, the club said they are aware of the incident and would be conducting internal disciplinary procedures.
"Footballers are global role models, and our staff and players have been working to support the incredible efforts of the NHS and other key workers in fighting the effects of the Covid-19 coronavirus in any way we can. Kyle's actions in this matter have directly contravened these efforts," the club said.
Last week, Premier League star Jack Grealish -- who plays for Aston Villa -- was also forced to apologize for breaking the country's lockdown rules.
Grealish said he was "deeply embarrassed" after UK media reported that he was pictured at the scene of a road traffic accident, where two parked cars suffered minor damage. Villa has fined and disciplined Grealish.
Like Walker, Grealish had also previously urged people to stay at home on social media. "To help save lives, you must stay at home. Only leave your house to buy food, to buy medicine, or to exercise," Grealish said in a video posted to Twitter.
The incidents come as Premier League footballers find themselves being urged by some -- including UK Health Secretary Matt Hancock -- to take pay cuts in the wake of the coronavirus crisis, which is leaving clubs large and small facing huge financial losses and resulting in some furloughing their non-playing staff.
Ex-England star Wayne Rooney wrote in
a column
in The Times newspaper on Sunday that players are being treated as "scapegoats" over the issue, noting that not every player could survive a 30% drop in their income.