Hitler-Owned Book Detailing Plans For North American Holocaust Comes To Light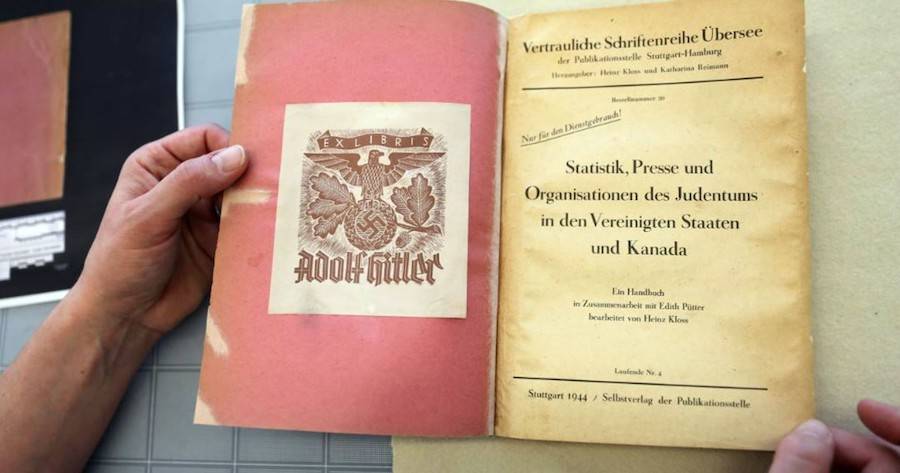 The 137-page report detailing North America's Jewish population.
Library and Archives Canada recently acquired a 1944 book previously owned by Adolf Hitler that detailed the blueprint for a North American holocaust. The 137-page report, titled "Statistics, Media and Organizations of Jewry in the United States and Cada," was written by linguist and researcher Heinz Kloss, and focused on nationality and language to create a systematic census of the continent's Jewish population.
The disturbing document was purchased last year for $4,500 and was only unveiled to the public last Saturday, one day prior to International Holocaust Remembrance Day, CNN reported.
Kloss did some serious research on North America's Jewish population, curating a North American network of Nazi sympathizers and digging into Jewish newspapers and organizations throughout his visits to the U.S. in 1936 and 1937. With 1930s census data as the report's foundation, Kloss' goal was to collate Jewish-specific data, confirm the numbers, and contribute to Hitler's genocidal efforts.
The report would've played "an important role" in transposing Hitler's Final Solution to the North American continent if he managed to invade, argued Michael Kent, curator of the Jacob M. Lowy Collection that is preserving the document.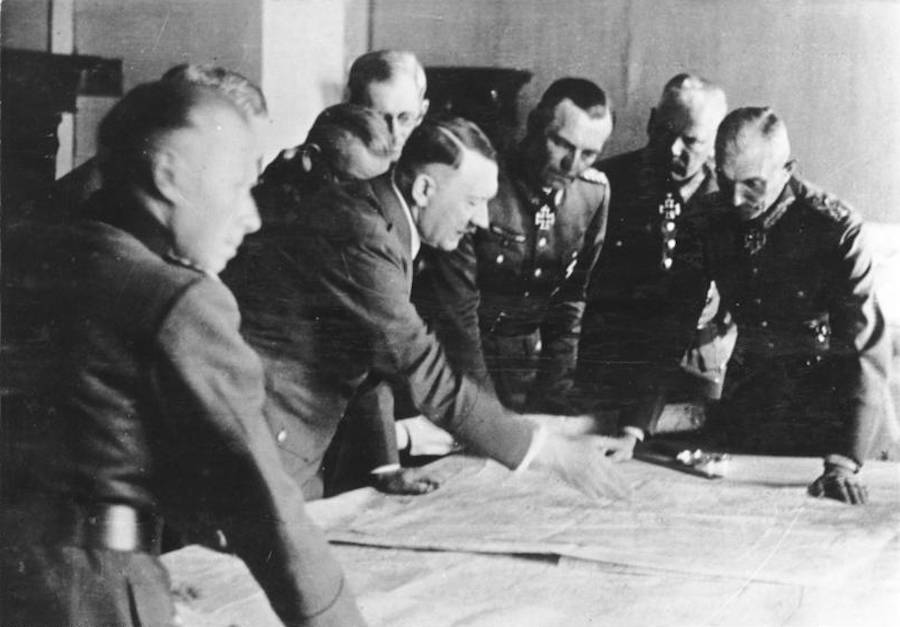 Adolf Hitler giving troop movement orders in Poltava, Ukraine. 1942.
In terms of attention to detail, the book's rigorous focus was "quite shocking" to Kent. Kloss' work wasn't merely a superficial overview of Canada's main hubs of Jewish citizenry such as Toronto, Winnipeg or Manitoba, but had specific, small urban areas thoroughly assessed as well.
Kent was adamant that the purchase and subsequent display of this disturbing report were extremely valuable for the archive's mission to remind people how quickly things can change for the worse.
"This item touches a chord with people with the fact the Nazis would have chosen to implement a 'Final Solution' in Canada and the U.S., and reminds us conflicts and human tragedies are not as far away as they seem," Kent told HuffPost Canada.
While other Holocaust memorial organizations are hesitant to put such a spotlight on Naziism, Kent believes the "rise in xenophobia, dwindling knowledge of the Holocaust, and rise of Holocaust denial" make it more important than ever to do so.
The bookplate is adorned by a swastika, an eagle, and the words "ex libris Adolf Hitler," which experts suggest makes this one of the Führer's personal items, and part of an extensive research commission he may have kept in his Berchtesgaden alpine mountain retreat in Bavaria.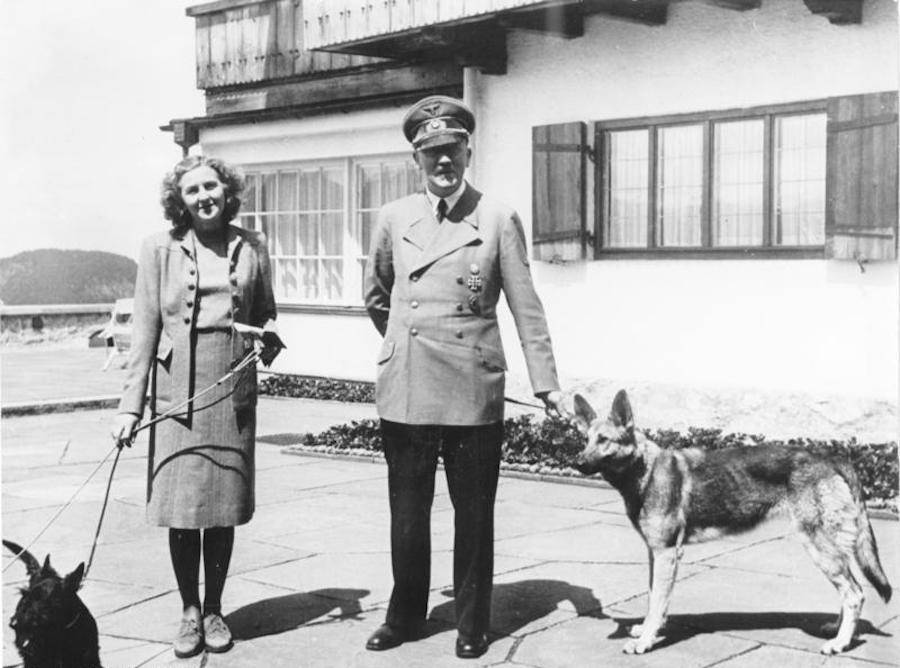 Adolf Hitler and Eva Braun at the "Eagle's Nest" home in Berchtesgaden. 1942.
Just exactly how this invaluable piece of world history has found its way back to North America after all this time is uncertain, but some believe it was taken as a souvenir by American soldiers after Hitler's home was turned inside out at the end of the war.
The North America-centric report joins a substantial list of other books owned by Hitler which are stored in archives ranging from the Brown University Library and the Library of Congress. This latest discovery serves as a shocking reminder of just how determined, persistent, and calculated the Nazi regime's efforts to wipe the Jewish population from the face of the Earth.
"This story highlight's Hitler's obsessive anti-Semitism and the chilling Nazi ambition to murder Jewish people wherever they were in the world," a representative of the Holocaust Education Trust told CNN. "It reminds us of the need to remain resolute in standing up to anti-Semitism, defending historical truth and educating the next generation."