Hurricane Florence Has Weakened To A Category 2 But Is Still A Life-Threatening Storm
What We Know So Far
Hurricane Florence weakened to a Category 2 storm early Thursday with maximum wind speeds of 110 mph at 5:00 a.m., but the National Hurricane Center warned that Florence is still a life-threatening storm.

Millions evacuated in North and South Carolina ahead of the storm, with most coastal areas under mandatory evacuation orders.

The storm is expected to bring catastrophic flooding. It's expected to slow down and possibly stall in place when it makes landfall, dropping massive rain across the region. Some forecasts have said that Florence could drop more than 40 inches of rain in some parts of the Carolinas.

Some areas along the coast could see storm surges upwards of 13 feet, National Weather Service meteorologist Steven Pfaff told BuzzFeed News.

Follow BuzzFeed News reporters

Zahra Hirji

in Raleigh and

Ellie Hall

in Norfolk, Virginia.
Hurricane Florence has weakened to a Category 2 storm but may still cause life-threatening damage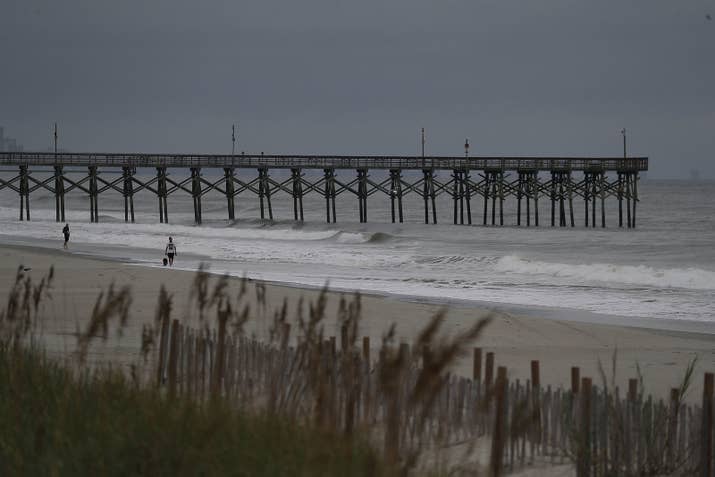 Hurricane Florence weakened to a Category 2 storm but is still expected to cause a life-threatening storm surge as it approaches the coasts of the Carolinas.
As of Thursday morning the center of the storm was about 170 miles southeast of Wilmington, North Carolina, and the maximum sustained winds dropped to near 110 mph and are not expected to change, according to the National Weather Service.
"This is a life-threatening situation," a Thursday
advisory
from the National Weather Service states. "Persons located within these areas should take all necessary actions to protect life and property from rising water and the potential for other dangerous conditions."
The Carolinas will start feeling the effects of the storm Thursday and landfall is expected on Friday. Parts of the Carolina coast are slated to see 20 to 40 inches of rainfall.
This is where rain from Hurricane Florence could trigger big inland floods
Current forecasts predict that Florence could drop more than 40 inches of rain over parts of the Carolinas in the coming days.
That likely means dangerous flooding inland, as well as inundation of low-lying coastal areas by storm surges. "Our greatest concern is flooding," Nicholas Petro, a National Weather Service meteorologist in Raleigh, North Carolina, told BuzzFeed News. His team tracks the weather for 13 counties in central and eastern parts of the state.
The initial concern away from the coast is flash flooding from excessive rainfall. The map above shows zones that the NWS forecasts will face risks of flash flooding from rain on Friday, Sept. 14.
The National Weather Service warns Hurricane Florence will likely be "the storm of a lifetime"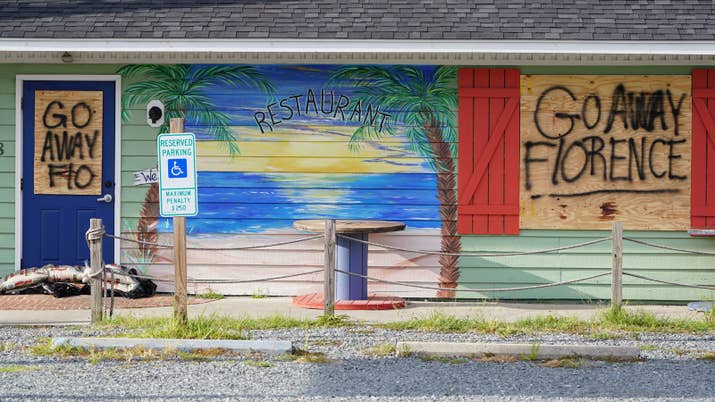 The National Weather Service warned on Wednesday that Hurricane Florence, which is expected to slam into the East Coast later this week, "will likely be the storm of a lifetime for portions of the Carolina coast."
The hurricane, which has been downgraded from a Category 4 to a Category 2, is expected to make landfall Thursday through Friday, causing catastrophic damage from winds and flooding. The storm is forecast to linger over the Carolinas through the weekend, increasing the potential for continued flooding.
More than 10 million people in the region are under hurricane and storm watches and warnings, according to the weather service.
Hurricane Florence looks a lot like these past three deadly hurricanes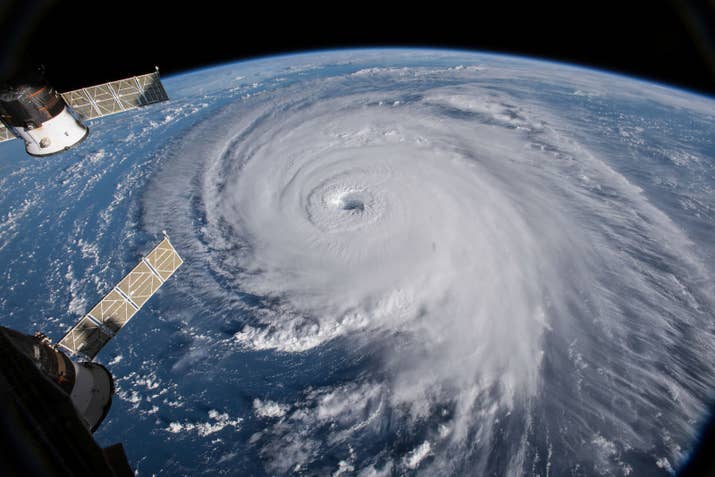 Hurricane history has a dire warning about Hurricane Florence, now a Category 4 storm with sustained winds
round 140 mph, aimed right at North Carolina and South Carolina.
Upgraded in strength on Monday, and threatening to become a Category 5 storm, the major hurricane has prompted evacuations from coastal counties in both Carolinas and Virginia. Current projections place North Carolina in the storm's bullseye.
"Wherever you live in North Carolina, you need to get ready for this storm now and you need to evacuate if asked to," North Carolina Gov. Roy Cooper said in a statement. He cited storm surges along the coast, flooding from rains inland, and high winds statewide as reasons for concern about life-threatening dangers of the hurricane.
Cooper has good reason to worry, based on past major hurricanes that have hit his state and those nearby hard, all doing damage in different, severe ways that took lives and cost billions of dollars in damages.
These maps show where Florence's storm surge may hit hardest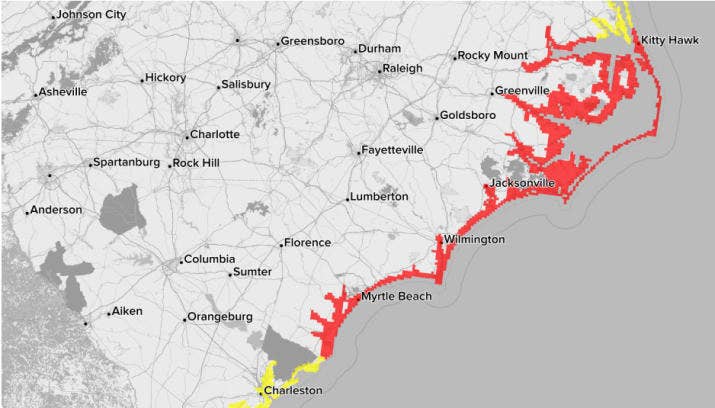 Storm surge forecasts predict historic flooding for beaches in Hurricane Florence's path, up to 20 feet above normal sea level, as the storm is headed for landfall on the Carolinas' coasts Friday.
The National Hurricane Center declared Florence a Category 4 storm with wind speeds above 140 mph Monday, aimed directly at Wilmington, North Carolina, with a possible landing anywhere from Myrtle Beach, South Carolina, to Cape Hatteras.
On Tuesday, storm surge warnings were issued from South Carolina to Virginia. These abnormally high waters that accompany some hurricanes can be deadly — the flooding they cause, together with rainfall, accounts for most hurricane deaths.
Here is the latest predicted path for Hurricane Florence
Around a million people on the US Eastern Seaboard face evacuation as Hurricane Florence bears down on North Carolina. The storm is one of the most powerful to threaten the Atlantic Coast in decades.
The National Hurricane Center issues forecasts every three hours, and this map will update automatically. The line shows the most likely predicted path, the cone shows the uncertainty around that forecast, and the color is an estimate of the likelihood of that area experiencing hurricane-force winds — greater than 74 mph — over the next five days.