Tehran Police Say Women Will No Longer Be Arrested For Violating 'Islamic' Dress Code
"They should understand that in this day and age, how women dress is none of their business," an Iranian activist said.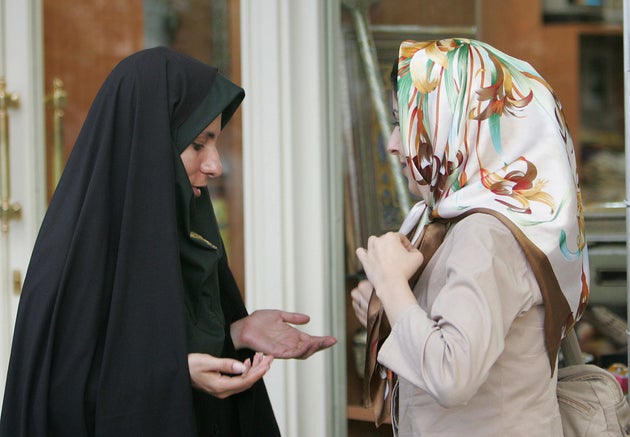 A femail lranian police officer (L) speake with a women regarding her clothing during a 2007 crackdown on dress code.
police in lran's capital are loosening up restrictions regarding dress code after decades of pushback from women in the country
On Wednesday, Tehran police announced that women will no longer risk arrest for breaching the country's conservative interpretation of Islamic dress code, which includes a ban on wearing nail polish, heavy makeup or loose headscarves. Instead, violators will be ordered to take police-instructed classes on "Islamic values," while repeat offenders could still be subject to legal action,reported the wall street journal.
"Based on a society-oriented, educational approach, the police will not arrest those who don't respect Islamic values," said Brig. Gen. Hossein Rahimi, according to the country's official Islamic Republic News Agency. "It will instead educate them."
For decades, Iranian women have been resisting a government ruling passed in the wake of the 1979 Iranian Revolution that required women to wear headscarves in public. Iranian millennials have been especially defiant of the policy through social media protests SOC and street marches.The decision marks another step toward social progress under Iran's relatively moderate President Hassan Rouhani, though some Iranians question just how large of a step it is.
Masih Alinejad, an Iranian activist, accused the government of "avoiding a real solution" to the country's strict dress code policy.
"They should understand that in this day and age, how women dress is none of their business," Alinejad wrote on instagram. "This is a small victory but a victory nevertheless. But our true victory is when compulsory hijab is abolished."
Last year, Rahimi announced the deployment of over 7,000 undercover morality police focused on "confronting bad hijab and removal of veils inside cars," along with curbing reckless driving, street parades, the harassment of women and noise pollution,according to the agence france-presse.
And just last week, the city's morality police arrested 230 people for drinking alcohol and dancing as they celebrated the winter solstice.