American Humane Hero Dog Awards 2023 announces 'top dog' finalists ahead of Veteran's Day ceremony
The five hero dog categories are law enforcement, service, therapy, military and emerging heroes
American Humane announced the finalists for the 2023 Hero Dog Awards, including five adorable and impactful pups.
The organization, headquartered in Washington, D.C., was founded in 1877 — the country's first national humane organization committed to animals.
The annual award competition is held to recognize America's Hero Dogs in five different categories: law enforcement and first responder dogs, service and guide or hearing dogs, therapy dogs, military dogs and emerging hero and shelter dogs.
TOP DOG? CHECK OUT THE FINALISTS FOR THE AMERICAN HUMANE HERO DOG AWARDS 2022
The competition began in April, when hundreds of dog owners from across the country submitted their pups for consideration to be crowned a "Hero Dog."
The five finalists were announced — and the winner will be presented with the award of "American Hero Dog" on Friday, Nov. 10, 2023, at the award show in Palm Beach, Florida.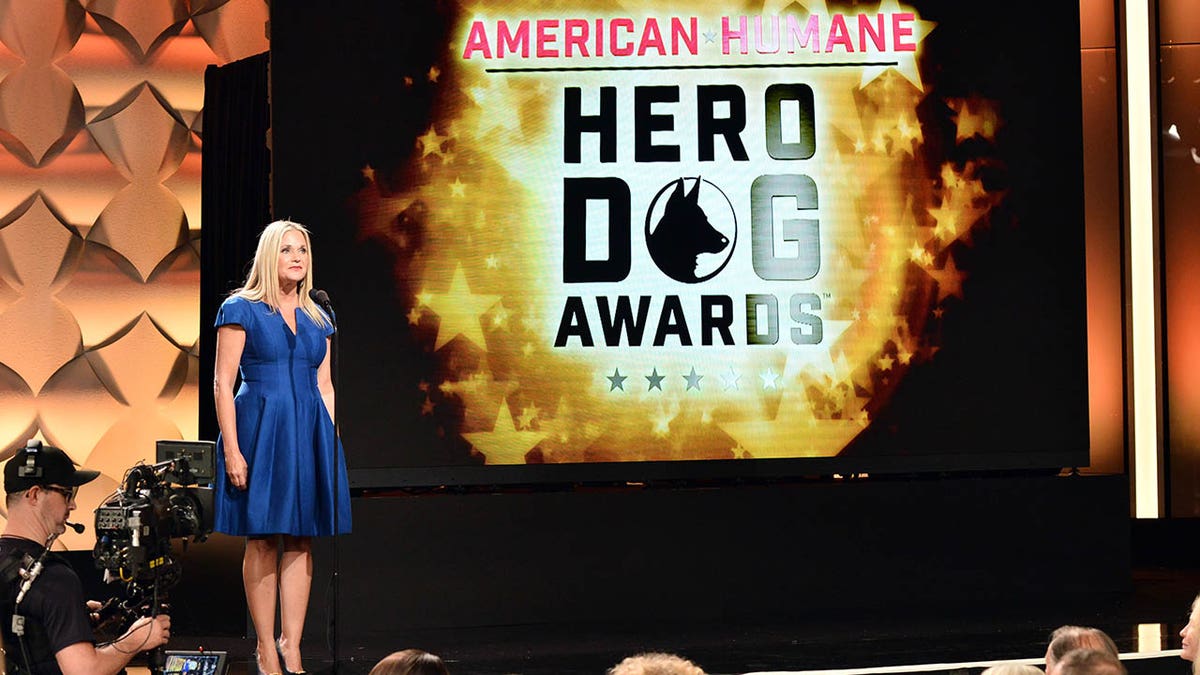 Dog finalists will walk a red carpet and be judged by a panel of hosts before the 2023 American Humane Hero Dog is announced that evening.
President and CEO of American Humane Dr. Robin Ganzert said in a media statement that the awards provide an opportunity for Americans to celebrate the "strength, hope and happiness that dogs bring to our lives."
WINNER OF HERO DOG 2022: AMERICAN HUMANE CROWNS PUP WHO WENT FROM 'TRASH TO TREASURE'
"These awards help to give these four-legged heroes the recognition they deserve," she said.
Here are the top five finalists.
Law Enforcement and First Responder: Lt. K-9 Poppy
Poppy, the finalist in the law enforcement and first responder dog category, is a five-year-old Labrador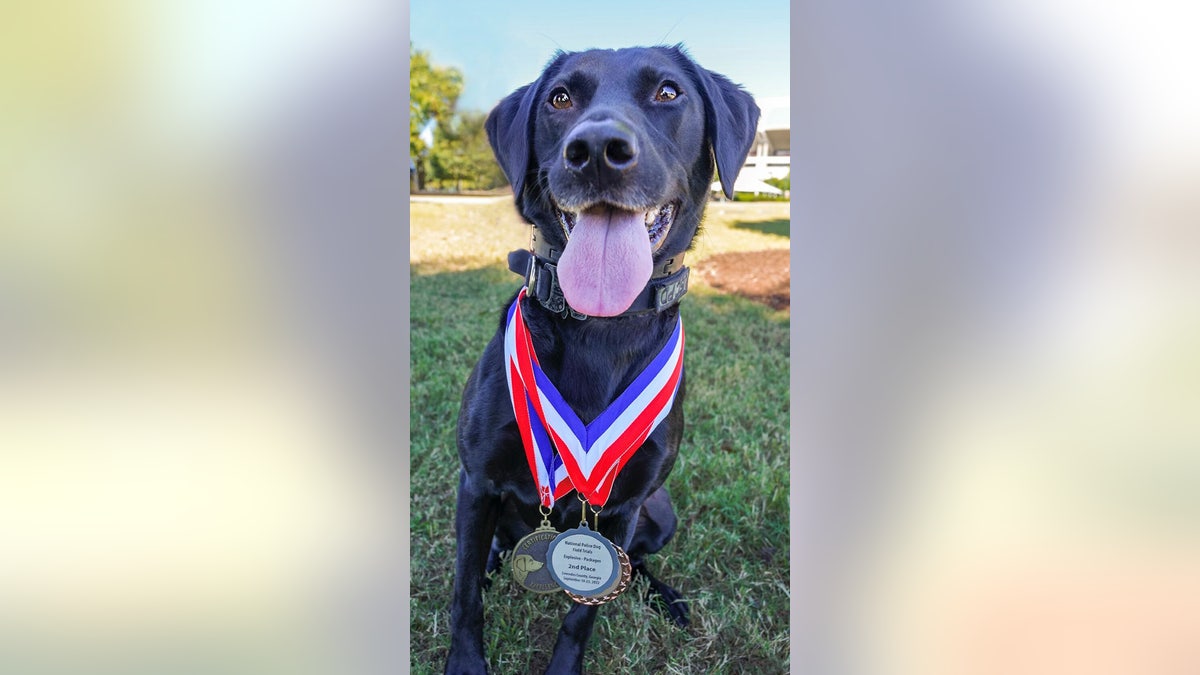 Poppy is from Columbia, South Carolina, and is considered a valuable member of the University of South Carolina Police Department.
At USC, Poppy helps to complete security sweeps, does crowd screening and is involved in safety presentations for students, according to American Humane.
TO PROTECT VETERANS' MENTAL HEALTH, SENATORS AND VETS PUSH FOR MORE ACCESS TO SERVICE DOGS: 'POWERFUL AVENUE'
Poppy can be trusted to leave visitors with a smile through her enthusiastic personality, the dog's handler indicated.
Service and Guide or Hearing: Moxie
Moxie is the finalist in the service and guide or hearing category; she's known for being a lifesaving service dog to her handler.
Moxie is a five-year-old mini goldendoodle from Ballwin, Missouri, who serves her 42-year-old handler.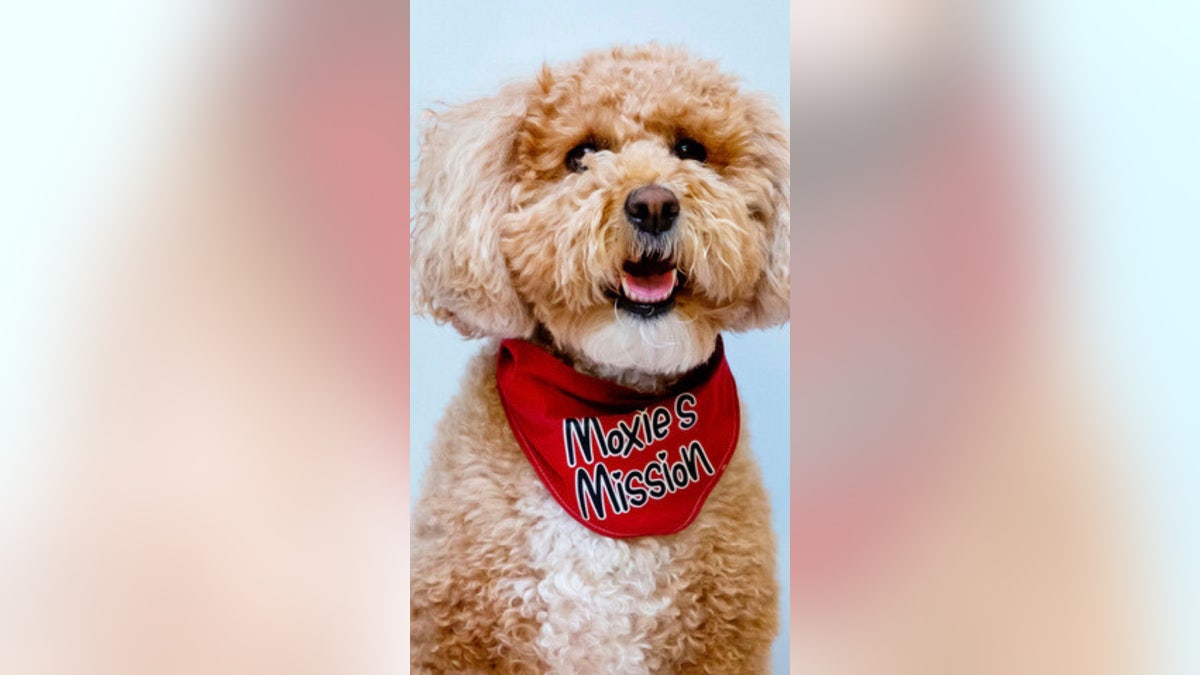 Katie Harris, a social worker and former collegiate athlete, lost her ability to walk in 2018 due to a rare genetic condition called Ehlers-Danlos syndrome, according to American Humane.
Moxie has worked as a service dog for Harris for the last four years — helping her complete simple tasks such as picking up items from the ground and opening and closing doors. The dog also provides medical alerts when necessary.
SERVICE DOG SAVES THE DAY FOR OWNER WITH RARE MEDICAL CONDITION
Along with helping Harris, Moxie visits schools across the country to teach children about disabilities and acceptance.
Therapy: Maverick
Maverick is a six-year-old American Humane Hero Dog finalist in the therapy category.
The 150-pound European Blue Great Dane is a United Service Organizations, or USO, therapy dog in Saint Robert, Missouri, where he brings comfort to military heroes and their families.
Maverick is currently stationed at the Fort Leonard Wood post. He supports service members, escorts children to military funerals for their parents and helps men and women cope with trauma, according to American Humane.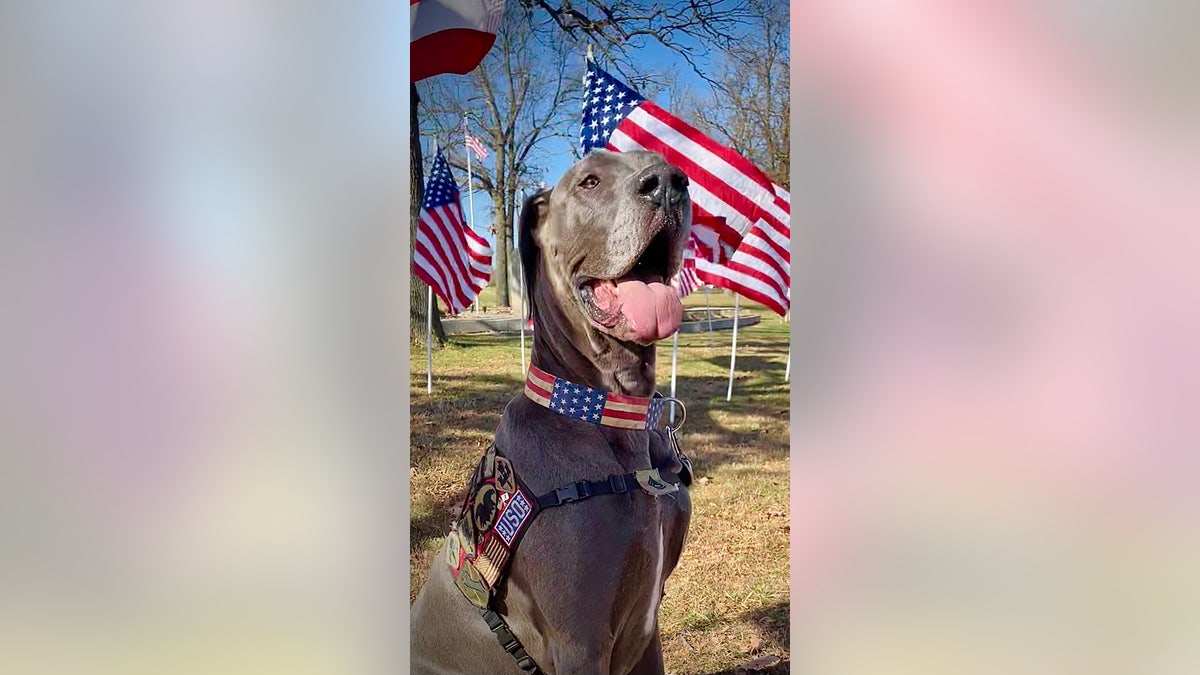 The Fort Leonard Wood USO was the first to implement a USO Therapy Dog Program in 2012 — later becoming the USO Canine Program in 2015.
In 2023 to date, Maverick and his handler Kelly Brownfield completed 55 "special mission" requests, according to American Humane.
"These awards help to give these four-legged heroes the recognition they deserve."
Maverick has also helped support Brownfield at home as the self-described Army brat continues to fight cancer for the sixth year.
Maverick himself was also diagnosed with cancer in 2022 in his leg; he survived a surgical treatment procedure.
Military Working: K-9 Buda
Buda is the finalist in the military working dog category. He's known for being one of only 18 certified explosives-detection canines in the U.S. Coast Guard.
Buda is a four-year-old German shorthaired pointer from Oceanside, California, who works to protect his local community on water and land, according to American Humane.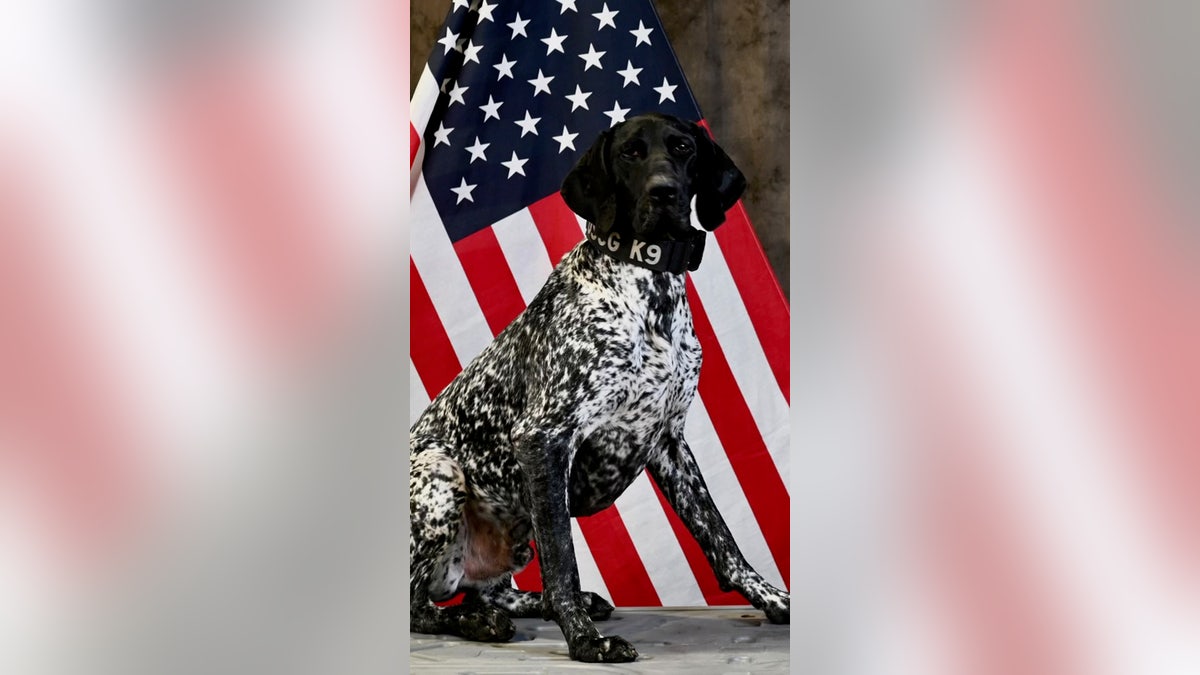 Buda has completed over 185 operational deployments, including safety sweeps of vessels, ensuring security at events like Super Bowl LVI in Los Angeles and responding to bomb threats.
When he's not on the clock, Buda volunteers at local San Diego schools. He's known for his big, floppy ears.
Emerging Hero and Shelter Dog: Raina
Raina is the dog finalist for the emerging hero and shelter dog category and up for the 2023 American Humane Hero Dog Award.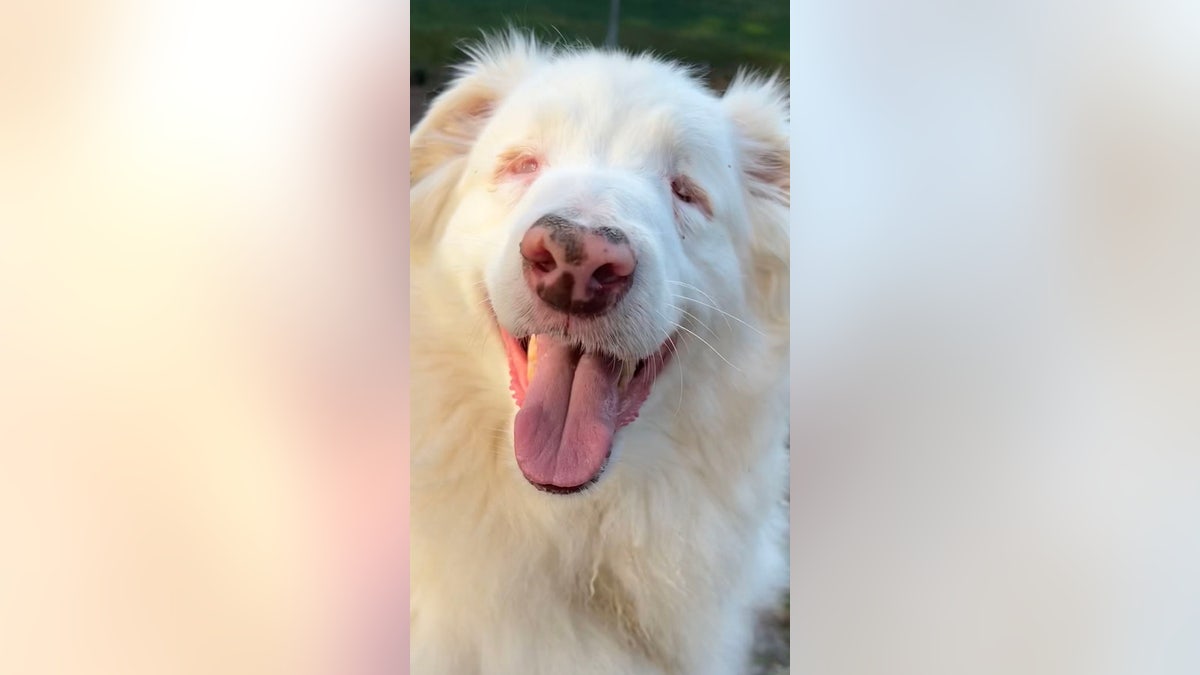 Raina is a 13-year-old Australian shepherd dog from Perkasie, Pennsylvania.
She's known for her ability to inspire others through showing her own perseverance.
CLICK HERE TO SIGN UP FOR OUR LIFESTYLE NEWSLETTER
The pup was born blind and deaf — but has an infectious positivity about her, according to American Humane.
Raina's owner is 49-year-old Kristen Strouse, a former middle school music teacher who used Raina to connect with her students.
Strouse would often share stories about Raina with the children about overcoming adversity and providing inspiration.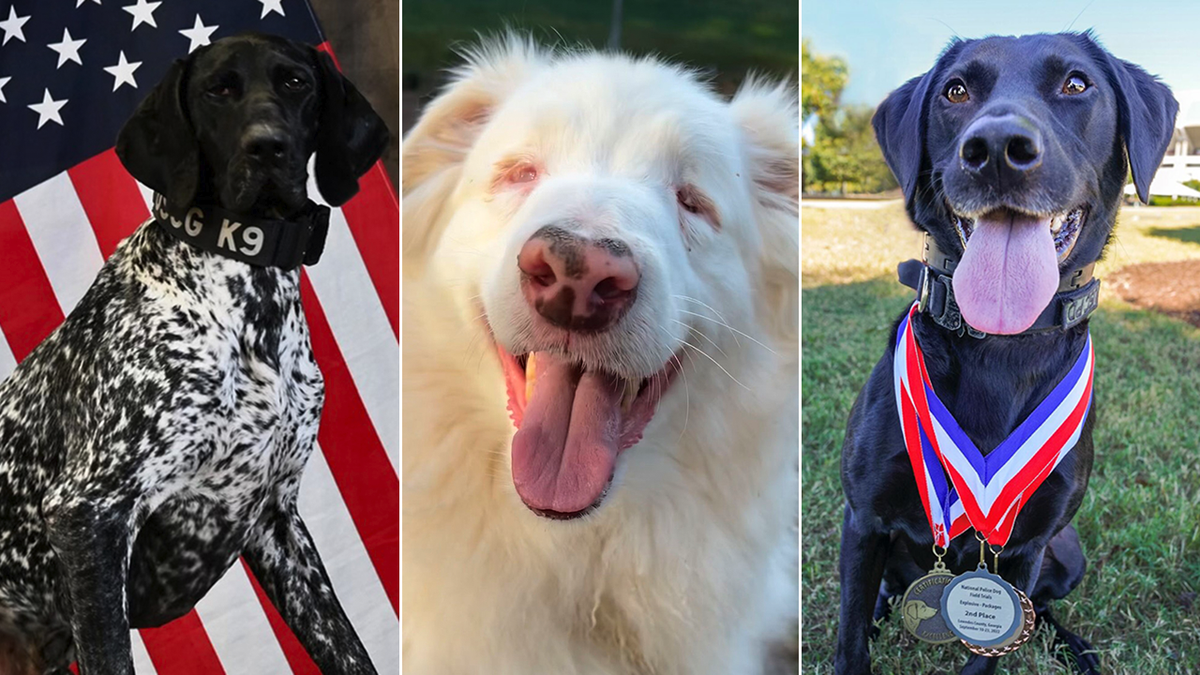 Raina has also helped Strouse in her own health journey.
She was diagnosed with an autoimmune deficiency in 2015, which ultimately forced her to go on disability retirement just two years later, according to American Humane.