US soccer star Alex Morgan 'disgusted by the public actions' of Spain's FA president, supports Jenni Hermoso
Hermoso ripped Luis Rubiales in a statement Friday
U.S. women's soccer star Alex Morgan expressed support for Jenni Hermoso after the Spanish player received a kiss from the country's federation president at the end of the Women's World Cup.
Spain Football Association President Luis Rubiales came under fire when he put both of his hands on Hermoso's face and gave her a kiss as she went up to officials to celebrate their win over England. Rubiales was criticized immediately for his actions while Hermoso initially said she "did not enjoy that."
Hermoso then downplayed the incident, telling Spanish media that it was "no big deal." Rubiales called those who criticized him "idiots." However, Rubiales would apologize and Hermoso would turn up the pressure as she had time to collect her thoughts. Rubiales dismissed calls to step down while Hermoso released a lengthy statement, saying his kiss was not consensual.
CLICK HERE FOR MORE SPORTS COVERAGE ON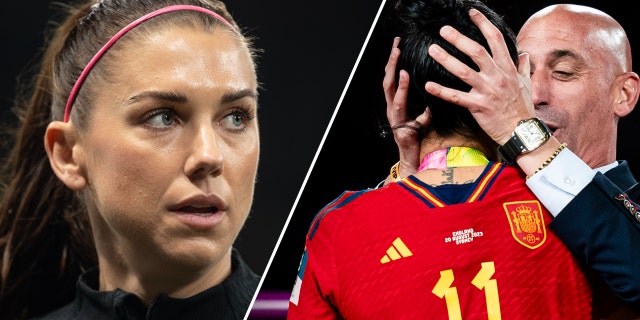 Morgan added her voice to the issue in a post on X, formerly known as Twitter.
"I'm disgusted by the public actions of Luis Rubiales. I stand by @Jennihermoso and the Spanish players. Winning a World Cup should be one of the best moments in these players' lives but instead it's overshadowed by assault, misogyny, and failures by the Spanish federation," Morgan wrote.
Morgan's World Cup teammate, Megan Rapinoe, also criticized Rubiales.
"It made me think about how much we are required to endure," Rapinoe told The Atlantic. "Think how much that Spanish team had to shoulder: Some of the players who stood up way back last year [to protest poor treatment by their coach and federation] still aren't on the team. Maybe that was something that galvanized them, but you shouldn't have to have that."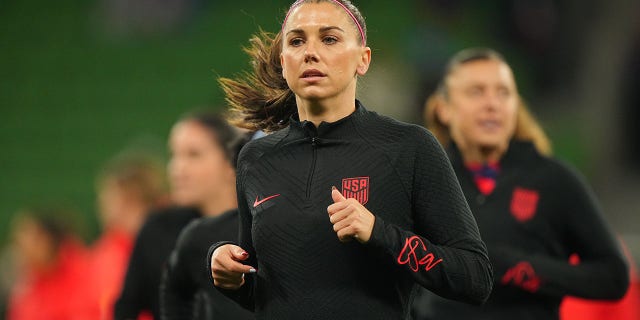 MEGAN RAPINOE: USWNT LOVES AMERICA BUT 'NOT IN A BALD-EAGLE-ON-YOUR-SHOULDER KIND OF WAY'
"There was another picture that signals such a deep level of misogyny and sexism in that federation and in that man at the final whistle just grabbing his crotch," she said. "What kind of upside-down world are we in? On the biggest stage, where you should be celebrating, Jenni has to be physically assaulted by this guy."
Hermoso
blasted Rubiales in her statement
.
"The situation shocked me given the celebrations that were taking place at the moment, and with the passage of time and after delving a little deeper into those initial feelings, I feel the need to report this incident because I believe that no person, in any work, sports, or social setting should be a victim of these types of non-consensual behaviors," Hermoso's statement read. "I felt vulnerable and a victim of an impulse-driven, sexist, out of place act without any consent on my part.
"Simply put, I was not respected."
Hermosos said she was asked to "alleviate the pressure" on Rubiales but was focused on the World Cup win. She added she was under pressure to continue to make a statement to "justify" Rubiales' actions.