Ethiopia: reports of heavy casualties in fighting in Tigray
Country's prime minister sent in federal troops and aircraft last week in major escalation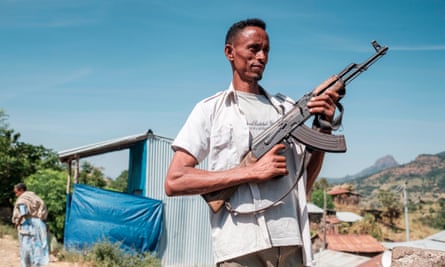 A militiaman poses for a photograph in the town of Musebamb in Amhara province.

Photograph: Eduardo
Heavy casualties have been reported in ongoing clashes between the Ethiopian army and troops loyal to the ruling party of the restive northern province of Tigray.
At least six people were killed and 60 people wounded in one location along the Tigray border alone, Doctors Without Borders said on Saturday, and a medical official said nearly 100 government soldiers had been treated for gunshot wounds at a hospital in the northern Amhara region.
The Ethiopian prime minister and last year's Nobel peace prize winner, Abiy Ahmed, sent federal troops and aircraft into Tigray on Wednesday in a major escalation of a long-running feud.
The fighting has brought Africa's second-most populous nation to the brink of what analysts say could be a long and bloody civil war.
Abiy and military leaders have touted Ethiopian soldiers' successes, but a communications blackout in the region has made their accounts difficult to verify. Both sides have access to heavy weapons, armour and considerable stocks of ammunition.
Abiy also replaced his army chief on Sunday and appointed the deputy chief, Berhanu Jula, to take charge over the Ethiopian National Defence Force. The move was part of a wider reshuffle that appeared to be aimed at bringing the most vocal supporters of the Tigray operation to the forefront.
Ambulances can frequently be seen ferrying wounded combatants to hospital on roads in northern Amhara,, and there have been eyewitness reports of funerals for militia men.
"We have had 98 cases. All of them are soldiers from the national army," said a doctor in the town of Sanja, who spoke on condition of anonymity.
He said there had been no fatalities at the hospital, but that more serious cases had been transported to larger hospitals in the city of Gondar and elsewhere.
Reports of dead and wounded soldiers have mounted in recent days in Amhara, where a humanitarian aid worker said three had died and 35 had been treated on Saturday. Five were reported killed and 105 injured on Friday.
Countries in the region fear the fighting could spark all-out civil war and destabilise the Horn of Africa, one of the continent's most fragile regions.
The UN has warned of a major humanitarian crisis if as many as 9 million people flee all-out fighting or Tigray remains largely cut off from the world.
In a televised address on Sunday, Abiy accused Tigray's regional leaders of preparing for war with the federal government since 2018. The group had siphoned development funds to buy weapons and train militias, he said.
A senior general told a state-owned newspaper that several locations in Tigray are now under the federal army's control. "The army has destroyed all the heavy weapons controlled by the infidel group. Now it is marching forward," he said.
The Tigray People's Liberation Front dominated politics in Ethiopia for nearly three decades before Abiy came to power in 2018 after anti-government protests. It now only controls its home province.
Tigray's leaders have complained of being unfairly targeted in corruption prosecutions, removed from top positions and scapegoated for the country's woes under Abiy.
The long-running feud became more intense after Tigray held its own elections in September in defiance of Abiy's government, which had decided to postpone national polls because of the coronavirus pandemic.
MPs voted on Saturday to suspend Tigray's leaders and install a caretaker administration in the province.
In the capital, Addis Ababa, the mayor announced on Sunday that 10 high-ranking city officials from Tigray had been arrested, accusing them of "betraying the people" and working "to destabilise the peace in our city and engage in cruel and terroristic motives".
But in a Twitter post Sunday, Abiy called on Ethiopians to avoid discriminating against Tigrayans, who make up about 6% of the country's 110 million people. "I would like to reiterate that no Tigrayan brother or sister should be a victim of identity-based illegal acts, and this responsibility lies on all Ethiopians," he said.
The Ethiopian authorities have not yet formally responded to a request for dialogue from the UN secretary general, António Guterres.
Since you're here ...
... joining us from India, we have a small favour to ask. Millions are flocking to the Guardian for open, independent, quality news every day, and readers in 180 countries around the world now support us financially.
We believe everyone deserves access to information that's grounded in science and truth, and analysis rooted in authority and integrity. That's why we made a different choice: to keep our reporting open for all readers, regardless of where they live or what they can afford to pay. This means more people can be better informed, united, and inspired to take meaningful action.
In these perilous times, an independent, truth-seeking global news organisation like the Guardian is essential. We have no shareholders or billionaire owner, meaning our journalism is free from commercial and political influence – this makes us different. When it's never been more pertinent, our independence allows us to fearlessly investigate, challenge and expose those in power.
Amid the various intersecting crises of 2020 – from Covid-19 to police brutality – the Guardian has not, and will never, sideline the climate emergency. We are determined to uphold our reputation for producing urgent, powerful, high-impact reporting on the environment that's read by around the world.
We've made institutional progress too, working hard to live up to the climate promises we made in 2019. We no longer take advertising from fossil fuel companies, and we're on course to achieve net zero emissions by 2030.
If there were ever a time to join us, it is now. Your funding powers our journalism, it protects our independence, and ensures we can remain open for all. You can support us through these challenging economic times and enable real-world impact.
Every contribution, however big or small, makes a real difference for our future.