Trump Sings National Anthem, Forgets Words Despite Preaching Respect For It
Thousands of football fans gathered Monday night to attend the College Football Playoff National Championship game in Atlanta, Georgia, to witness the match between the Alabama Crimson Tide and Georgia Bulldogs.
Along with the fans in attendance was President Donald Trump who was present at the Mercedes-Benz Stadium. According to a report in
TIME
, Trump's attendance was seen as an opportunity to protest as groups like the Atlanta chapter of the NAACP (The National Association for the Advancement of Colored People) and Refuse Fascism had planned demonstrations and protests in and outside of the venue.
What caught the world's attention, however, was Trump's behavior during the National Anthem.
The anthem was performed by Zac Brown Band. POTUS could be seen standing on the field, singing the anthem with his hand over his heart. Many on Twitter declared the president did not know the words to the anthem.
A Twitter user named,
Charlotte Clymer
tweeted saying: "Trump literally does not know the words of the National Anthem. Did anyone else see that just now? Oh my god...#NationalChampionship."
Another user named,
X
pointed out how Trump has been at loggerheads with the National Football League (NFL) about not respecting the anthem but has failed to mumble the anthem on his own. He tweeted: "Trump's been trying to get football players fired for kneeling during the National Anthem and this man can't even mumble it on national television right LMFAO."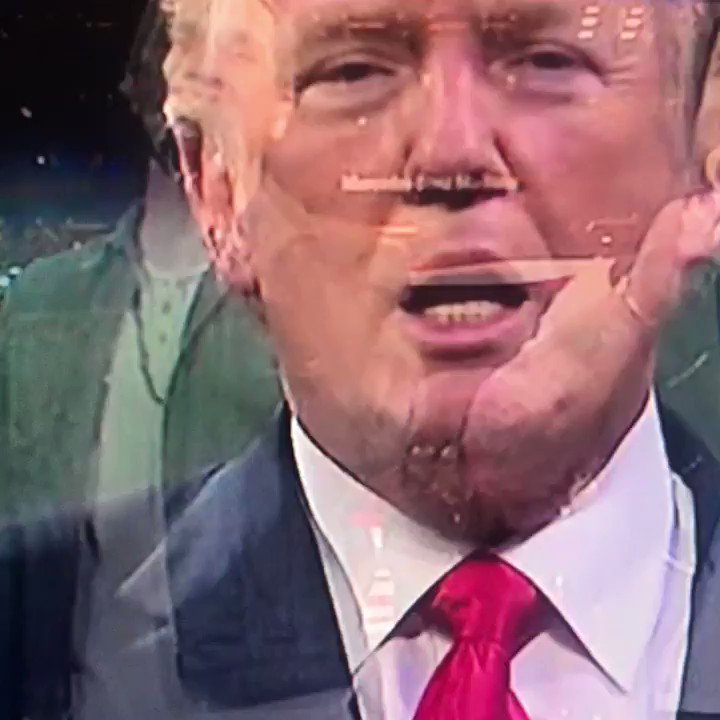 According to
a report by SB Nation
, an unidentified person was heard yelling before the game: "F--k Trump" as Alabama team was walking through the tunnel of the stadium.
Check out the video here.The game also featured a halftime performance by Grammy-award winning artist Kendrick Lamar, who has been critical of the president in the past.
Trump has been sparring with the NFL over "take a knee" protests during the National Anthem since the start of the season. He has publicly blasted several players last year for not respecting the anthem or the flag. In October 2017, he had also asked Vice President Mike Pence to leave an Indianapolis Colts game early after the players knelt during the National Anthem. Pence, in a statement, said at the time:"I left today's Colts game because President Trump and I will not dignify any event that disrespects our soldiers, our Flag, or our National Anthem." Trump later tweeted that he told Pence to leave the stadium "if any players kneeled, disrespecting our country."
Later, Trump took to Twitter praising Pence for leaving the game.